Coatings for steel bridges are used to prevent corrosion and subsequent degradation of structural properties. Since the use of zinc rich primers in the 1970's, it has been a challenge to match the longetivity of the primers with existing and developing topcoats until the early 1980's with the introduction of Fluoroethylene vinyl ether (FEVE).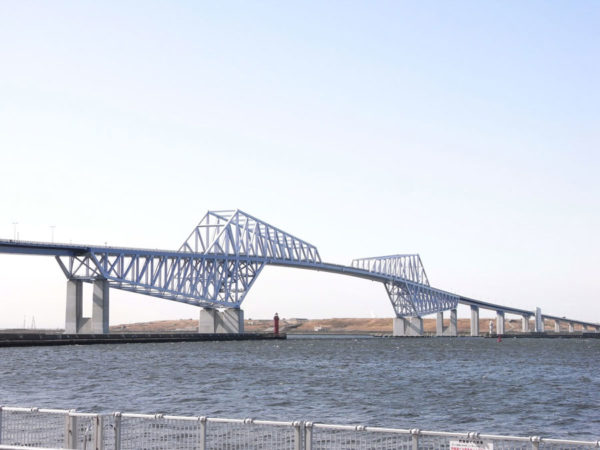 FEVE resin, a fluoropolymer resin for coating, was developed in 1982 by Asahi Glass Corporation to overcome the deficiencies of preceding fluoropolymer coatings while maintaining outstanding weatherability, color and gloss retention.

FEVE resins contain reactive materials combined with crosslinkers to form fluorinated polyurethanes that enable their use at elevated and ambient temperatures. They are soluble in conventional solvents, meaning that they can be applied with standard painting equipment. Extensive testing indicates that FEVE coatings can be expected to extend the life of formulated topcoats to more than 60 years.

The Honshu-Shikoku bridge projects began in 1973. The bridges utilized the latest design, construction and coating technologies available. The facility maintenance authority emphasized on preventive maintenance rather than corrective maintenance, in order to reach a targeted performance level versus a minimum performance level. These measures in initial construction and maintenance are to reduce overall life cycle costs.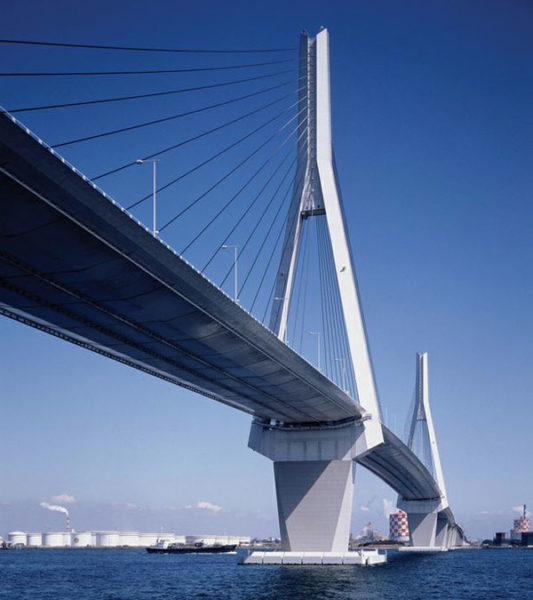 The bridges initially built in the 1970's and 1980's primarily used polyurethane topcoats over zinc rich primers. After the development of FEVE flouropolymer resin in the early 1980's, testing from both technical and government organizations compared polyurethane, chlorinated rubber and fluoropolymer coatings for several years. Based on those results, a fluoropolymer topcoat system was selected for the initial coating for the Akashi Straits Bridge.

In 1990, the "Japanese National Specification for Steel Bridge Coatings" was rewritten to include the use of fluoropolymer topcoats depending n the environment of the bridge. In 1991, the use of studded snow tires was banned, leading to an increase of use of salt on snow-covered roads, affecting areas classified as severely corrosive. Fluoropolymer coatings continued to prove their weatherability and corrosion resistance.

By the end of the Honshu-Shikoku project in 1999, 16 bridges had contained fluoropolymer topcoats.
The 2005 specification was revised to require the use of FEVE fluoropolymer topcoats, regardless of the severity of conditions. The driver is to reduce life cycle cost for protective coatings. The revision also fits with the mandate for preventive versus corrective maintenance.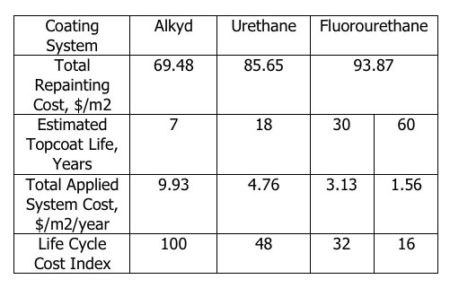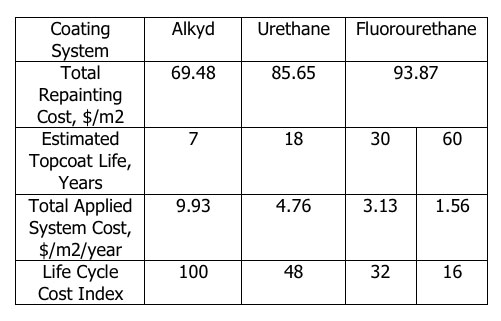 The tables compare the cost of coating, total repainting cost, topcoat life, applied system cost and life cycle cost index. Fluorourethane coatings offer substantial life cycle cost savings and reduce require maintenance compared to conventional coatings systems.

Japanese road authorities are still seeking coating systems that have a lifespan of 100 years, yet fluoropolymer/fluoroethylene coatings are proving to be the most durable and suitable in order to achieve that goal.