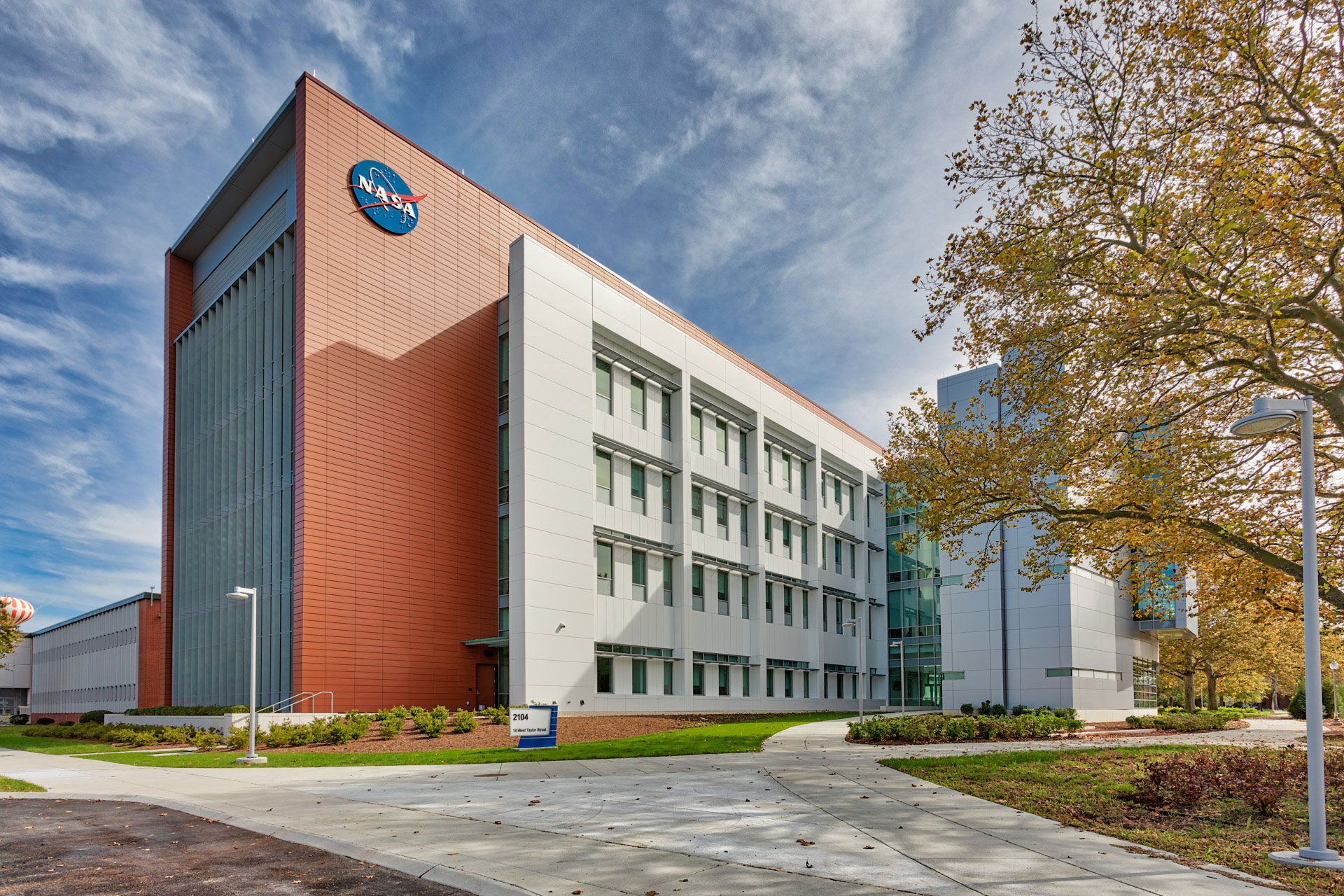 LUMIFLON® FEVE resin technology is used in coatings that protect metal, plastic, concrete, cement fiber board, composites, and wood substrates against degradation and moisture intrusion. The FEVE polymer is a platform chemistry that is supplied in various forms including solvent based liquid for easy application, water based resins for low VOC and low odor coatings, and a flake for sustainable powder coatings.
Metal Extrusions (Windows/Curtain Wall/Storefronts)
Aluminum extrusions are used to construct some of the most iconic structures around the globe. Protecting the aluminum from corrosion is critical. LUMIFLON LF710F is a FEVE flake resin that is used to formulate powder coatings. Powder coatings are electrostatically sprayed on aluminum extrusions (and sometimes even steel) that are used to create windows, storefronts, and curtain walls.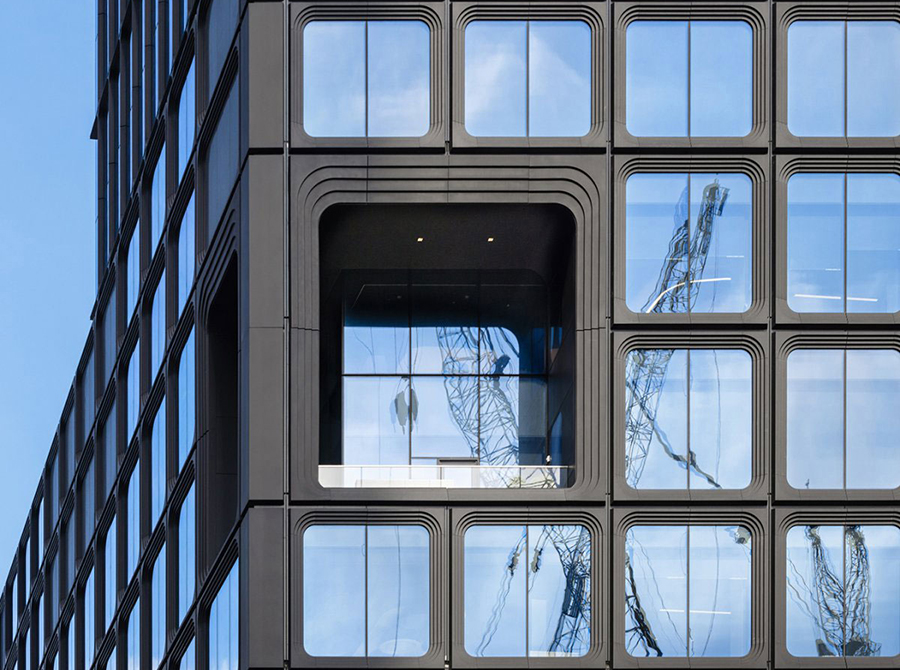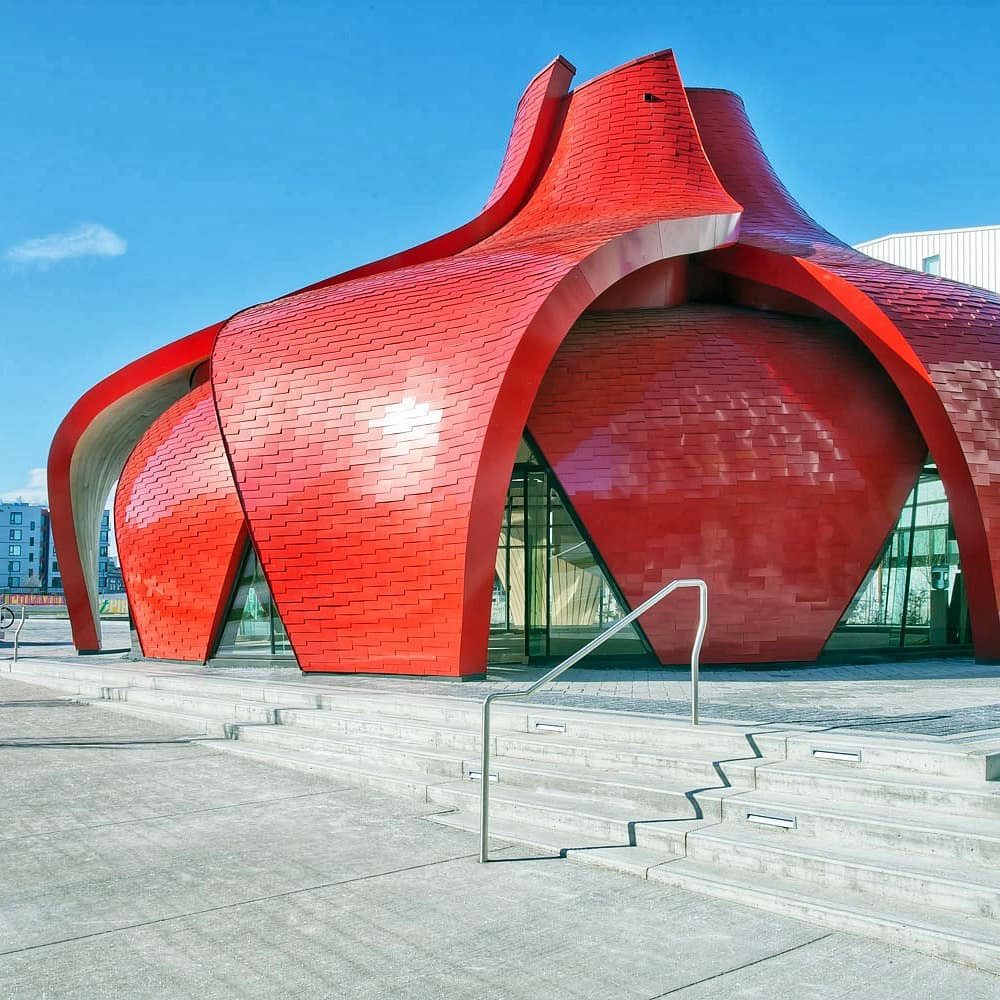 Architectural Panels (ACM/MCM/Single Skin/Metal Sheet)
Architectural panels are a convenient, light- weight façade choice for many low and mid- rise buildings. The traditional ACM/MCM panel is engineered as a "sandwich" of two layers of thin- gage aluminum that has a polymer, often fire- retardant core. The exterior aluminum is coated using a coil- coating process with coatings based on solvent grade LUMIFLON resins for finishes that have superior color and gloss retention. Various grades of LUMIFLON, including LF600X, LF552, and LF200 can be used. Because LUMIFLON FEVE resins are transparent and inherently high gloss, they are excellent choices for bright, bold colors and metallics that pop. These grades can also be used in convential spray applied coatings for use on single skin or aluminum sheet panels as well.
Plastic and Composite Building Materials
LUMIFLON FEVE resin chemistry allows for use in coatings that cure at ambient or low temperatures. This is important for use over heat- sensitive substrates like vinyl and fiberglass. Solventbased and waterbased FEVE resins may be used to create highly weatherable coatings for vinyl and fiberglass building materials that allow for a cure process that meets the specific needs of these sensitive substrates.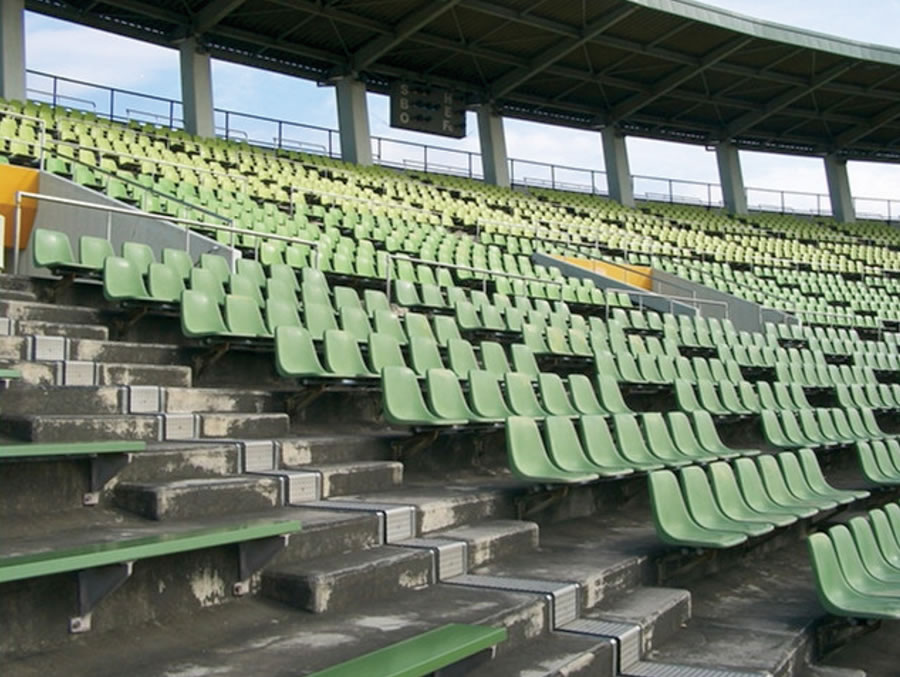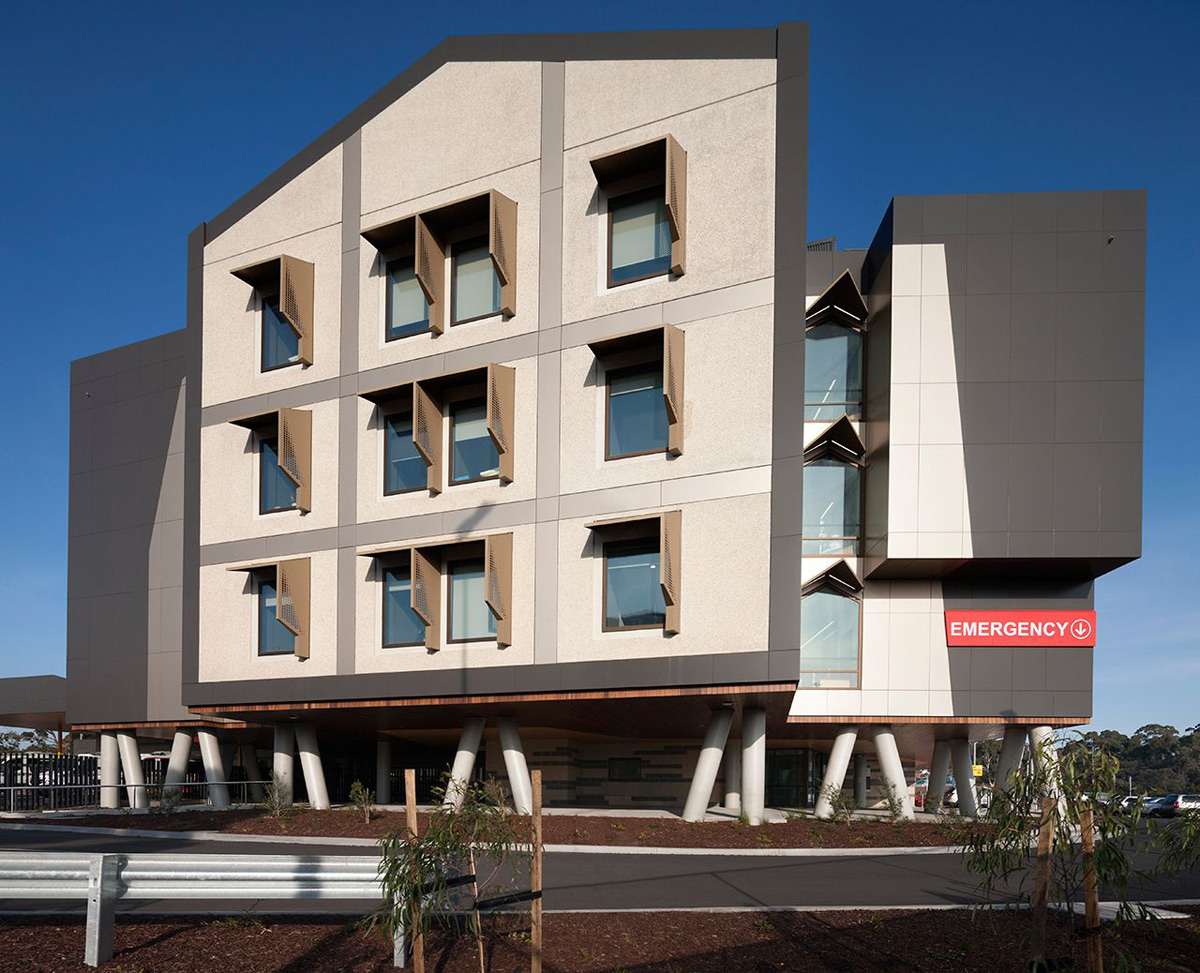 Wood and Cement Fiberboard
The various grades of LUMIFLON FEVE resins offer a wide- range of choices for coatings that can be used over porous substrates. Coatings made with LUMIFLON FEVE liquid coatings are used on fiber cement facades around the world.
LUMIFLON Architectural Grade Typical Properties
Grade
LF200
LF200F
LF552
LF600X
LF710F
LF910LM
LF916F
Features
Moderate Molecular Weight
solid resin for low VOC/HAPS- free coatings
Moderate Molecular Weight for coil coatings
High Molecular Weight
High

Tg

resin for powder coatings
Low Molecular Weight
solid resin for low VOC/HAPS- free coatings
Resin Properties
Tg (°C/°F)
35/95
35/95
20/68
20/68
51/125
37/99
34/93
OH Value, mg KOH/g  polymer
52
52
52
57
51
102
101
Solids by Weight, %
60
>98
40
50
>99
66
>99
Specific Gravity, 25°C
1.12
–
–
1.08
1.40
1.16
–
Solvent
Xylene
None
aromatic hydrocarbon and cyclohexanone
xylene
None
Xylene
None
Xenon test of white enamels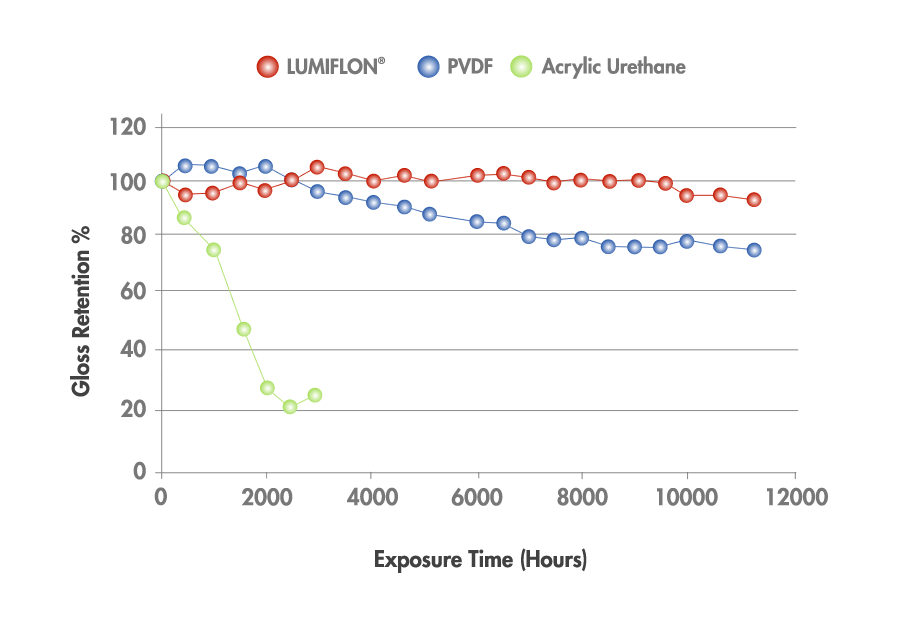 Weathering of LUMIFLON
Natural exposure test on LUMIFLON Miami, Florida (ASTMG7)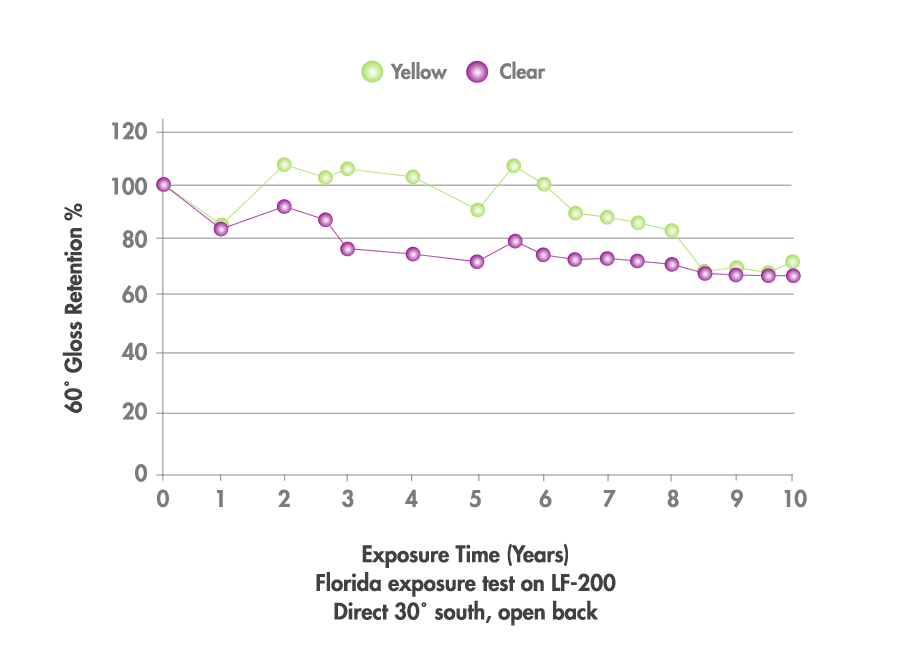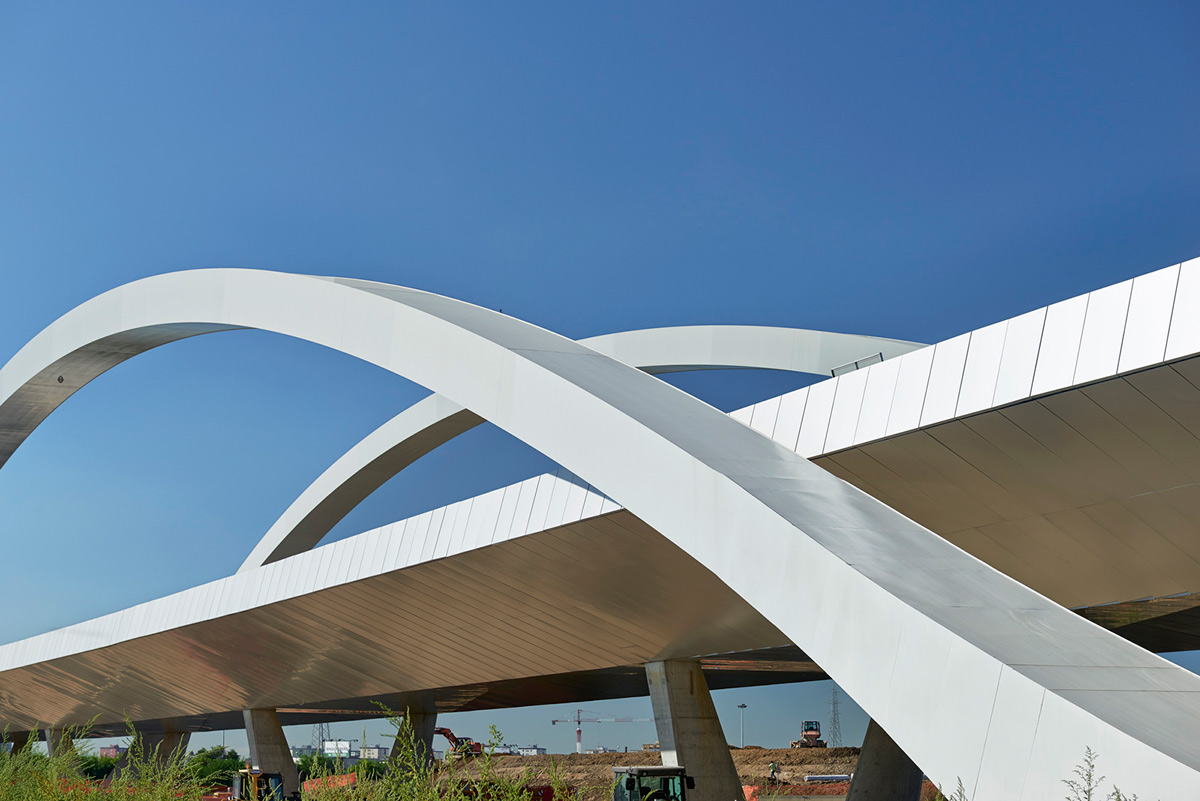 High performance coatings can extend the lifetime of bridges and water tanks and reduce the frequency of maintenance. FEVE resin technology provides the necessary durability for these coatings. LUMIFLON FEVE resin provides protection to bridge and water tank surfaces, helping to prevent coating degradation at the hands of UV radiation, salt, and water. FEVE-based coatings contain anti-corrosive properties that help maintain the coating's structural integrity for decades.
Bridges
LUMIFLON's low permeability to oxygen, water and chloride is unchanged after years of exposure to the elements, significantly reducing the opportunity for corrosion to begin on bridge surfaces. In addition, the flexibility and toughness of these coatings also remain unchanged, again reducing corrosion and limiting the risk of damage to the bridge surfaces over time. LUMIFLON resins have outperformed such common coatings as alkyds, chlorinated rubber, acrylics, urethanes and even siloxanes on steel and concrete, significantly reducing total life cycle maintenance costs on major bridge projects. When coatings made from LUMIFLON have been subjected to accelerated weathering tests, they show five times the lifespan of acrylic urethanes and over eight times the life of alkyd coatings. Costs associated with bridge downtime, including increased traffic congestion, are also significantly reduced over the life of the coating.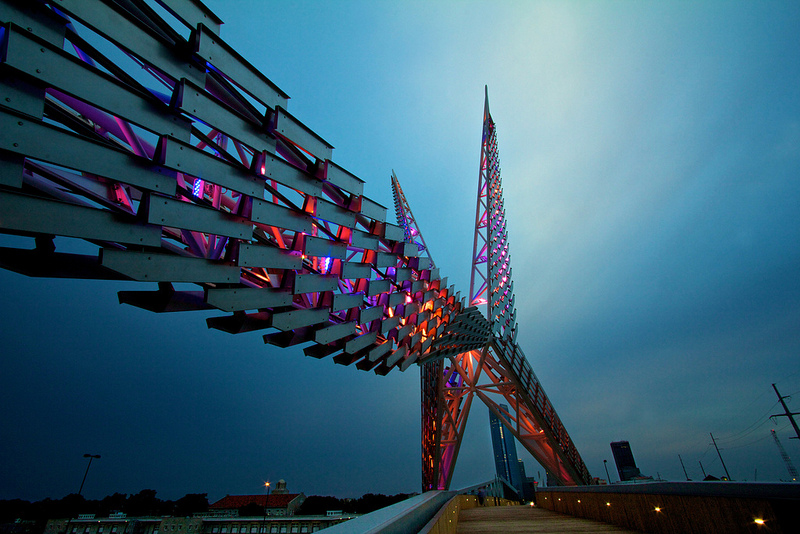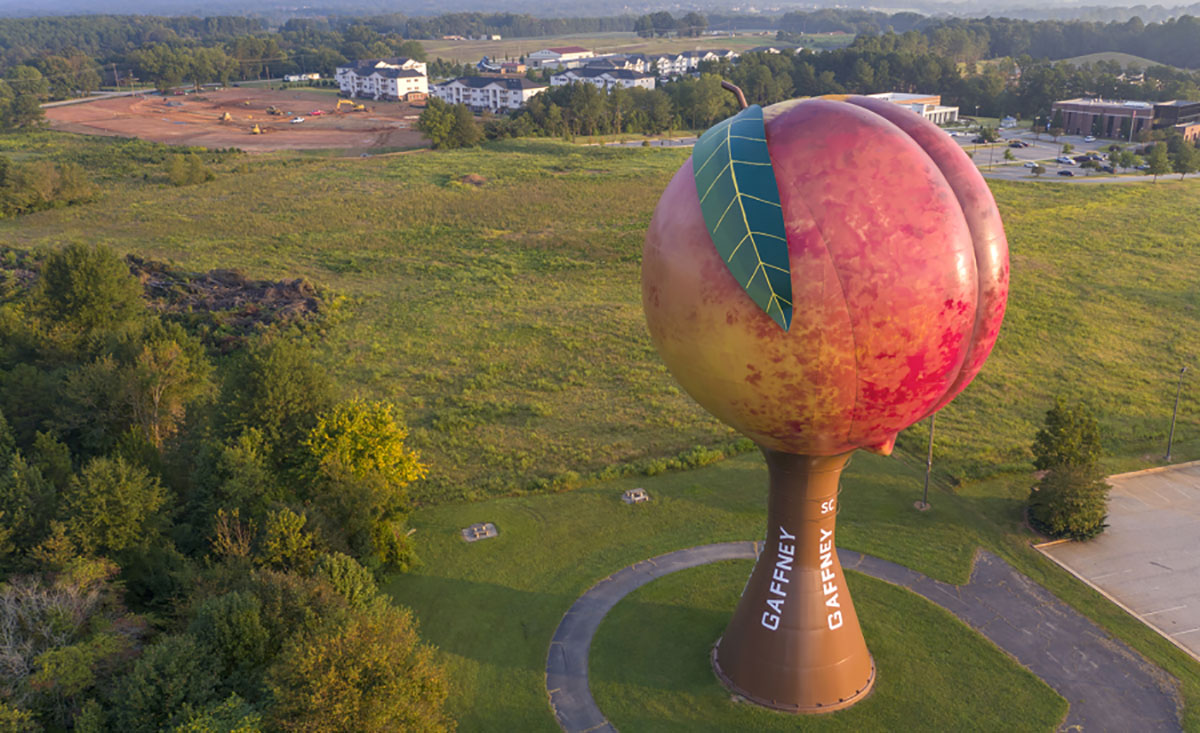 Water Tanks
The coating system is responsible for a water tank's ability to withstand elemental deterrents to produce a long-lasting, vibrant coating for decades. LUMIFLON FEVE resins offer long-term color vibrancy, abrasion resistance, and an extended maintenance cycle for water tanks across the country. Available in virtually any color, fluoropolymer coatings offer unprecedented long-term gloss and color retention, excellent resistance to chalking, and user-friendly application with brush, roller or spray equipment.
LUMIFLON Infrastructure Grade Typical Properties
Grade
LF200
LF200F
LF910LM
LF916F
Features
Moderate MW
Solid resin for low VOC/HAPS- free coatings
Low MW
Solid resin for low VOC/HAPS- free coatings
Resin Properties
Tg (°C/°F)
35/95
35/95
37/99
34/93
OH Value, mg KOH/g polymer)
52
52
102
101
Solids by Weight, %
60
>98
66
>99
Specific Gravity, 25°C
1.12
–
1.16
–
Solvent
Xylene
None
Xylene
None
Weathering of LUMIFLON
Natural exposure test on LUMIFLON Miami, Florida (ASTMG7)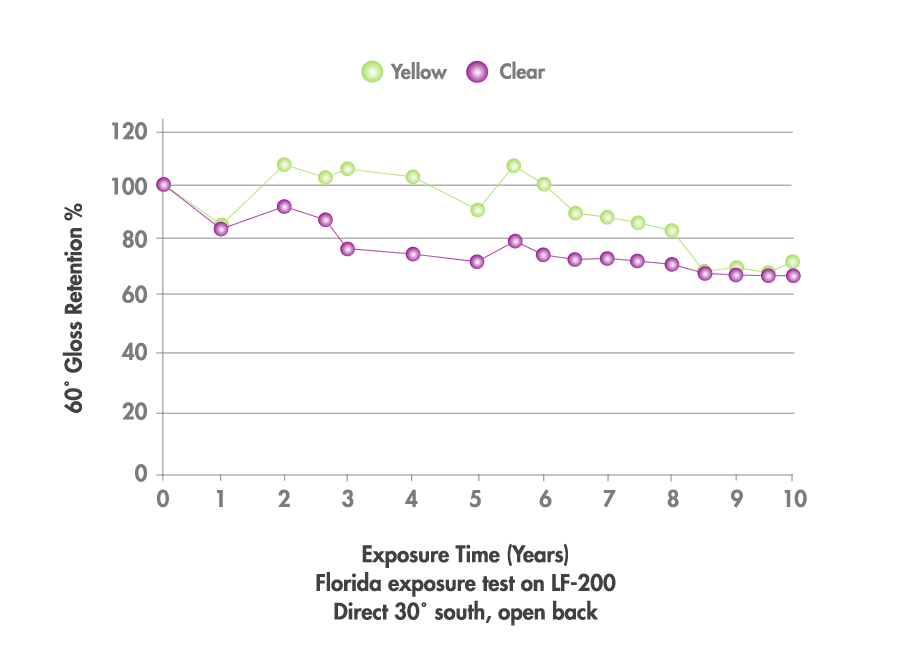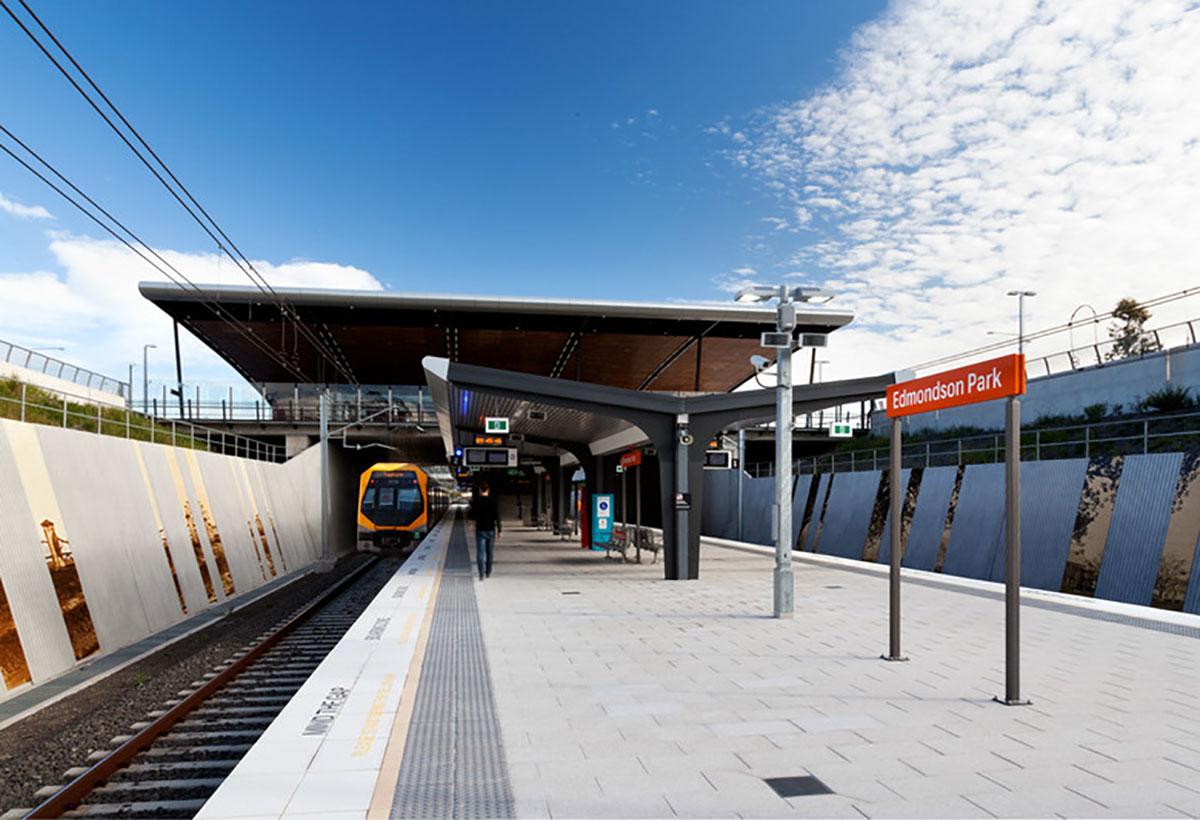 LUMIFLON fluoropolymer resins can be formulated to give coatings with a wide range of gloss, from matte finishes to high gloss. The LUMIFLON resin is also clear, making it completely compatible with a wide range of pigments and colors.
LUMIFLON resins have outperformed even the best acrylic urethane coatings on steel, aluminum, magnesium and plastics like ABS, polyurethane, FRP, PVC, polyethylene, polypropylene and polycarbonate, enabling transportation manufacturers to create and maintain the appearance for years. LUMIFLON-based topcoats have been shown to yield over five times the lifespan of acrylic urethane coatings typically used in the transportation industry. LUMIFLON resins can also be blended with traditional resins like acrylics to significantly increase their performance.
In addition to its superior durability, LUMIFLON also offers manufacturers the ability to formulate high gloss, brightly colored paint systems. LUMIFLON resins can also be manufactured in low gloss finishes. Its compatibility with a range of pigments and colors means that the engineer can choose coatings with an almost infinite variety of combinations of color and gloss.
LUMIFLON can be used in any area where outstanding weather and chemical resistance are required.
LUMIFLON-based coatings can reduce maintenance costs in the aerospace market by as much as 50% over the life of the plane, in addition to substantially reducing the loss of revenue during scheduled repainting.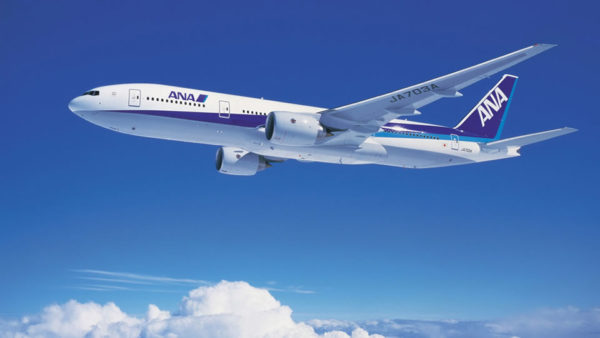 Aircraft coated with the LUMIFLON resin typically require no repainting for at least eight years, maintaining outstanding appearance and a durable surface that allows for easy cleaning. In contrast, acrylic urethanes begin to fade and chalk after only three years and require repainting after five.
LUMIFLON resins have been used worldwide to formulate aerospace coatings for both military and commercial aircraft. The fluoropolymer resins are offered in high solids solvent based products, but also come in environmentally friendly solid resins, allowing the formulation of low-VOC and HAPS-free coatings.
LUMIFLON's alternating structure protects the coating from degradation by UV rays, chemicals, and other environmental hazards.
LUMIFLON Transportation Grades Typical Properties
Grade
LF200
LF200F
LF552
LF810
LF810Y
LF910LM
LF916F
Features
Moderate
Molecular
Weight
Solid resin for low VOC/HAPS- free coatings
Moderate
Molecular
Weight
for coil coatings
High
Molecular
Weight
High
Molecular
Weight
Low Molecular Weight
Solid resin for low VOC/HAPS- free coatings
Resin Properties
Tg (°C/°F)
35/95
35/95
20/68
45/113
45/113
37/99
34/93
OH Value, mg KOH/g polymer
52
52
52
9
11
102
101
Solid resin, Wt. %
60
>98
40
45
45
66
>99
Specific Gravity, 25°C
1.12
–
–
0.98
1.04
1.16
–
Solvent
Xylene
None
aromatic
hydrocarbon and cyclohexanone
mineral spirits
xylene
Xylene
None
Weathering of LUMIFLON
Natural exposure test on LUMIFLON Miami, Florida (ASTMG7)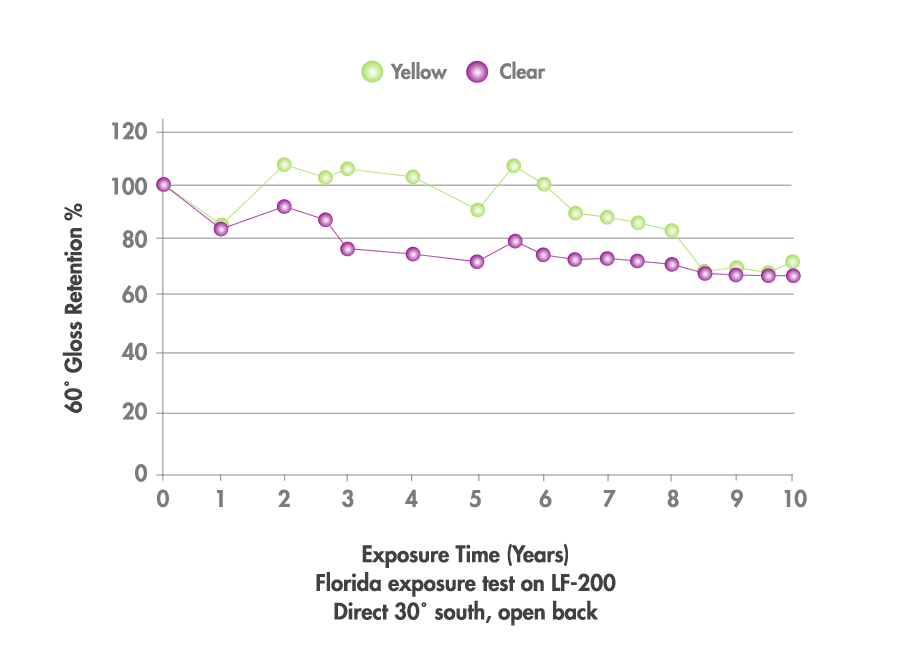 Case Studies