In 2001, the Granbury municipal water tank became the first water tank in the United States to receive an exterior finish coat of Series 700 hydroflon. Tnemec Company designed the Hydroflon series as a specialty fluoropolymer coating for tanks and exposed steel structures. In 2015 the Granbury tank was re-evaluated to determine the durability of the Hydroflon system.

The Hydroflon series was specified for its durability, gloss, and color retention. Representatives at tnemec Company describe, "The life expectancy of HydroFlon surpasses traditional urethane topcoats and is an excellent alternative to four-coat systems since it eliminates the need for a clear coat. In addition, the technology features high solids, excellent application characteristics, and superior UV protection."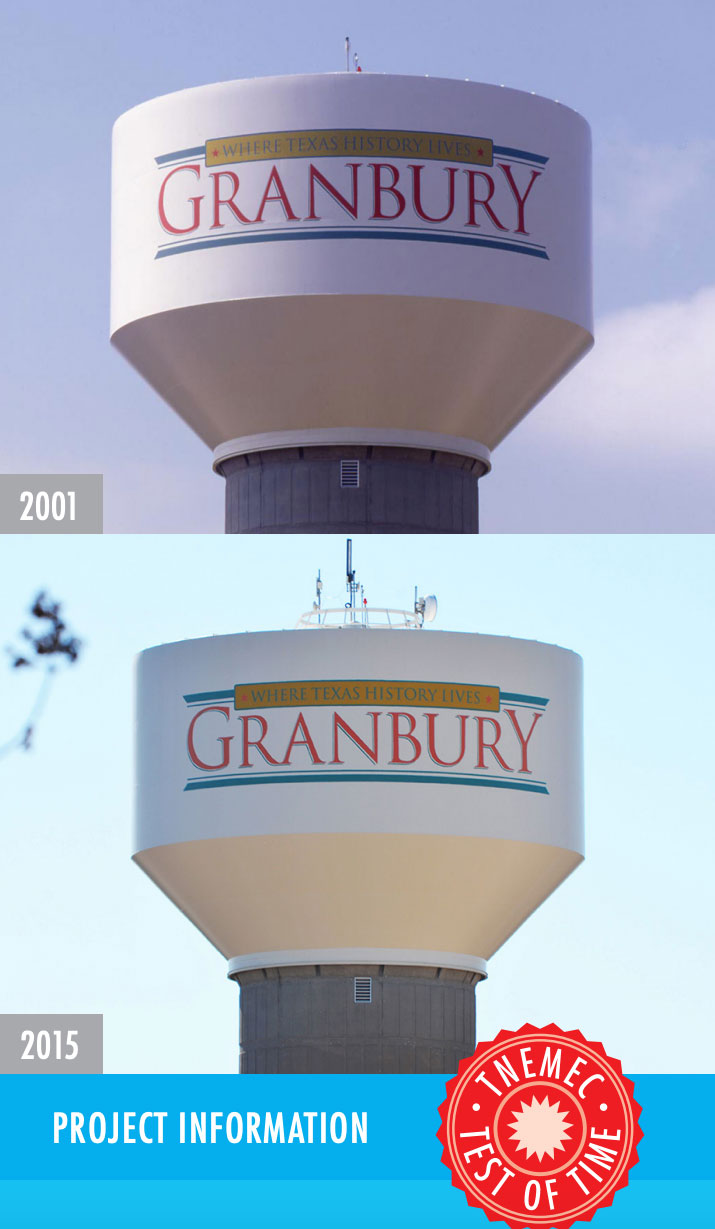 The fluoropolymer coating was one of a three-coat exterior system. In 2001, the technology was brand new. As Tnemec coating consultant Lane Salvato described, "On this project, the project engineer wanted a coating that was going to last a long time. Since this was new technology and no previous job histories existed, I showed him the product's performance data, and, in this case, he trusted our recommendation and decided to go with it. He's satisfied with the project and has specified it on several other water tanks.

The City of Granbury's logo and slogan, "Where texas History Lives," withstood the elements to earn Tnemec's "Test of Time" honor in 2015 showcasing the durability of the Series 700 HydroFlon system.

information and photography courtesy of Tnemec Company, Inc.