Serving as Salt Lake City's high-end retail and dining destination, the City Creek Center showcases one of the most advanced roofing systems available. The first of its kind in Utah, the S-shaped retractable roof consists of 36 structural steel "whalebone ribs," used to support glass panels, allowing for ample daylighting to the patrons below. Using a Lumiflon FEVE fluoropolymer based Tnemec coating system, fabricators at Ducworks, Inc. were able to provide an excellent color match of the structural steel to the roof's metal frames.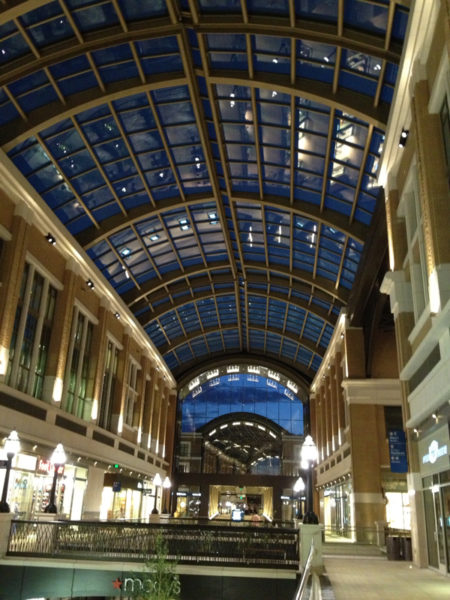 With an emphasis on aesthetics and finish, the majority of the retractable roof was fabricated in accordance with the American Institute of Steel Construction (AISC) specification for Architecturally Exposed Structural Steel (AESS); a specification associated with atriums and glass facades in airports.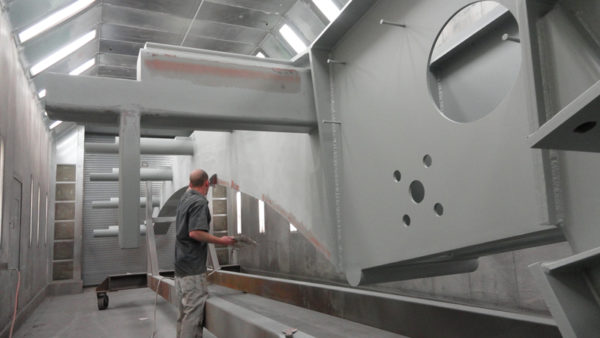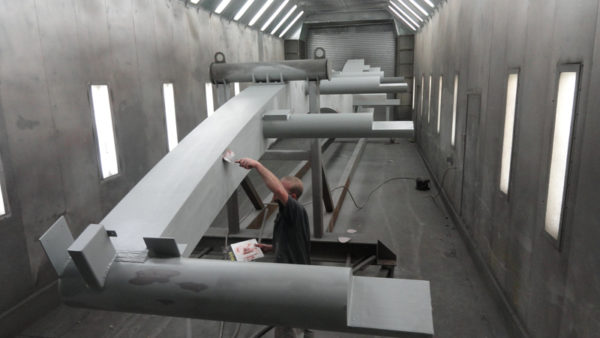 Because of the size of the structural steel ribs, weighing in excess of ten tons each, the coating system was shop applied in a special paint facility that was constructed for the City Creek Center project. The surfaces were prepared in accordance to SSPC-SP6 commercial Blast Cleaning, followed by a zinc-rich primer. The primed surfaces then received an intermediate coat of epoxy coating. Areas that were to be exposed to the public received a finish coat of Series 1078 fluoronar Metallic with Lumiflon FEVE resin technology in a custom champagne gold color, followed by a metallic clearcoat. The sections that were shielded from public eye received a finish coat of Series 1071 Fluoronar.
The Lumiflon FEVE resins in Tnemec's Fluoronar coatings systems contribute to high gloss and color retention, excellent resistance against ultraviolet degradation and longer life cycles than similar architectural coatings. In addition, the properties of FEVE resins allow for different formulations – from powder coatings, to solvent- and water-based coatings.
Michelle Call of Protective Coatings Intermountain, Inc. states that, "The color-match was beyond expectation…aesthetics was a key performance consideration in the decision to specify Fluoronar finish coatings. Durability was also critical, since you don't want to re-coat hard-to-reach areas like this every five years."

The City Creek Center retractable roof was also a recipient of the Innovative Design in Engineering and Architecture with Structural Steel (IDEAS2 ) award from the AISC; the most prestigious project-based award presented annually for excellence in steel-frame building design by the U.S. structural steel industry.
LUMIFLON®, a product of the Asahi Glass Company, is a fluoropolymer resin that offers distinct advantages to the architectural market. LUMIFLON® provides architects with the option of using brighter colors and higher gloss, allowing gloss values as high as 90; offers the flexibility to be heat cured or cured at ambient temperature, giving fabricators a choice between shop application or application in the field; and can be used successfully on a number of materials, including steel, aluminum, fiberglass, concrete and polycarbonate for 30 years without fading.
Tnemec Company; Kansas City, MO has has been a leading manufacturer of coatings and coating systems for exterior and interior environments for nearly a century. Tnemec's extensive product line is backed by outstanding technical support provided by highly knowledgeable coating consultants.
Images and information courtesy of Ducworks, Inc. and Tnemec .