In some of the more extreme climates of the United States, standing seam metal roof systems tend to experience coating failures more rapidly and severely. The roofs of buildings on the Olde Florida Golf Course in Naples, Florida had experienced inconsistent weathering from panel to panel, as well as some panels having been rusted all the way through. As restoration was long overdue, the owner contacted All-Tech Coatings of Romeoville, IL, for their expertise in standing seam metal roof recoating. To provide the best ultraviolet (UV) protection, color and gloss retention, All-Tech Coatings applied their proven roof coating system using PPG's coraflon ADS coating with Lumiflon FEVE fluoropolymer resin technology.
To prepare the 30,000 square feet of metal roof panels, contractors pressure washed the surfaces at 4,000 PSI. Following the surface cleaning, an epoxy primer was applied at 2.0 mil dry film thickness (DFT). The finish coat of Coraflon ADS was applied at 2.0 mil DFT in Forest Green, which provided a factory-like finish. This coating system has been proven to outperform the baked on Kynar finishes that All-Tech Coatings typically replaces in their roof restorations.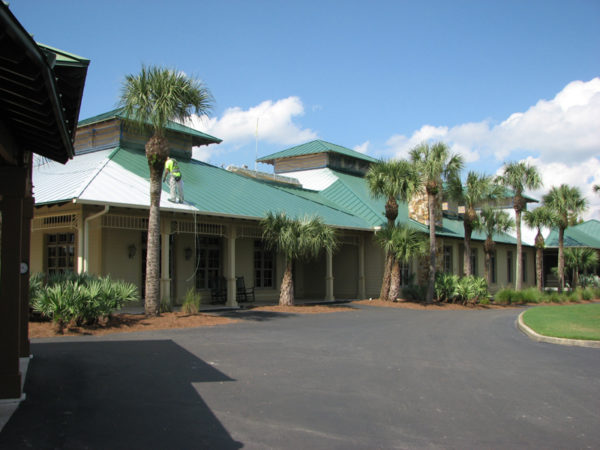 Although the roof recoating was a success, the Olde Florida Golf Club restoration did see its fair share of challenges. Bob Ruff, sales manager of All-Tech Coatings states:
"Since the project started in the summer, contractors had to deal with high surface temperatures of 150 degrees, sometimes up to 180 degrees Fahrenheit. In addition, the golf course was open during renovation, so we [All-Tech Coatings] had to be mindful of members, usually working around them and being sure to mitigate fumes. Nonetheless, the project was completed quickly, and the coating was able to cure evenly, showcasing the flexibility of the Coraflon ADS coating with Lumiflon resin technology."
LUMIFLON®, a product of the Asahi Glass Company, is a fluoropolymer resin that offers distinct advantages to the architectural market. LUMIFLON® provides architects with the option of using brighter colors and higher gloss, allowing gloss values as high as 90; offers the flexibility to be heat cured or cured at ambient temperature, giving fabricators a choice between shop application or application in the field; and can be used successfully on a number of materials, including steel, aluminum, fiberglass, concrete and polycarbonate for 30 years without fading.
All-Tech Coatings is a division at all-tech decorating Company; Romeoville, IL, which specializes in the application of high performance coatings on metal substrates, and mostly architectural standing seam metal roofing and curtain wall systems that have a baked on fluoropolymer finish.
ppg Industries; Pittsburgh, PA, is a leading coatings and specialty products and services company, serving customers in construction, consumer products, industrial and transportation markets and aftermarkets. PPG has manufacturing facilities and equity affiliates in more than 60 countries around the globe.
Images and information courtesy of © All-Tech Coatings.