Constructed in 1967, the signature bright red forum was once the premier music and sports arena in Inglewood, California. In its heyday, The Forum was the home for the Los-Angeles Lakers basketball team, the Los Angeles Kings National Hockey League team and host to many major musical acts. During the 1980s, the naming rights were sold and the building's exterior metal panels were painted blue.
However, by the late 2000s, the blue panels had greatly deteriorated. Using a high-performance coating system from Tnemec, which includes a fluoropolymer coating with Lumiflon FEVE resin, The Forum was revitalized to its former glory in its signature "Forum Red."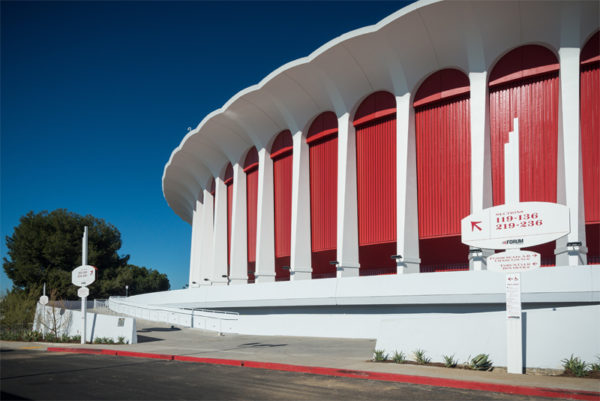 The coatings of all the metal surfaces were stripped to the bare galvanized steel underneath. These surfaces received two coats of tnemec's epoxy based primer coating, followed by Tnemec's Series 1071V fluoronar, a low-VOC fluoropolymer coating with Lumiflon FEVE resin technology. Using this fluoropolymer coating system, it was easy to closely match the former color of the original Forum arena, as well as achieve a factory-like finish that not only provides excellent ultraviolet (UV) resistance, but unparalleled gloss and color retention.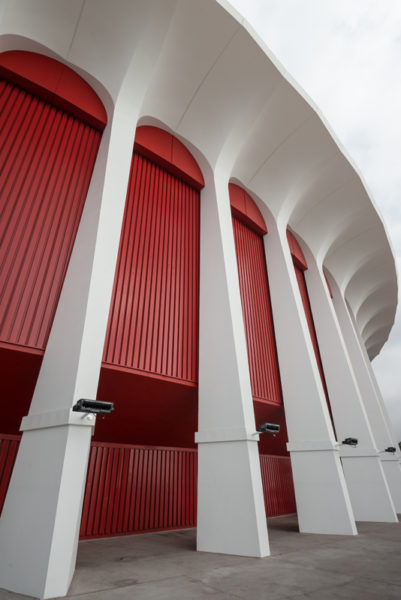 John Carr, Vice President- Project Management at Madison Square Garden Company states, "the [Forum] is a National Historic Landmark. Because of that, we had to be especially careful when it came to the exterior of the building. We had to make sure we found a single source coating system that would protect the building for many years."
When it comes to building rehabilitation, recoating or replacing metal surfaces can be very costly. Building owners are turning to high-performance Lumiflon FEVE resin based coatings systems for their durability and longevity. The long life span and low maintenance properties of these coatings translate into lower overall building life cycle costs.
LUMIFLON®, a product of the Asahi Glass Company, is a fluoropolymer resin that offers distinct advantages to the architectural market. LUMIFLON® provides architects with the option of using brighter colors and higher gloss, allowing gloss values as high as 90; offers the flexibility to be heat cured or cured at ambient temperature, giving fabricators a choice between shop application or application in the field; and can be used successfully on a number of materials, including steel, aluminum, fiberglass, concrete and polycarbonate for 30 years without fading.
Tnemec Company; Kansas City, MO has has been a leading manufacturer of coatings and coating systems for exterior and interior environments for nearly a century. Tnemec's extensive product line is backed by outstanding technical support provided by highly knowledgeable coating consultants.
Images and information courtesy of © Tnemec.