In a move towards sustainability, the San Diego International Airport sought to achieve a Leadership in Energy and Environmental Design (LEED) Platinum terminal design. Not only does the airport terminal utilize alternative energy sources and green building materials, it also features high performance, low volatile organic compound (VOC) coating systems from Tnemec. All exterior exposed steel, including canopies and two sky bridges, used tnemec's Series 1071V fluoronar coating with Lumiflon FEVE fluoropolymer resins for long lasting protection against ultraviolet (UV) light, along with high gloss and color retention.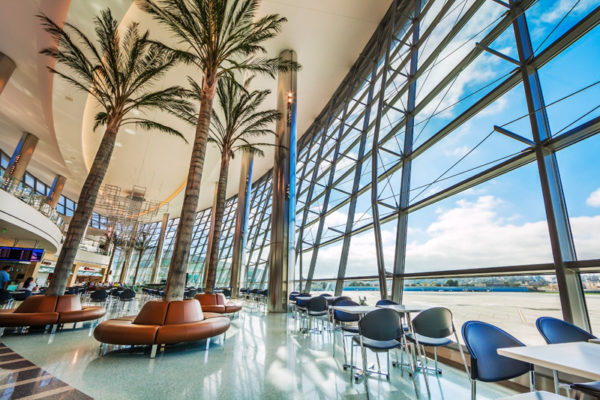 The steel surfaces were prepared to SSPC-SP6/NACE No. 3 commercial Blast Cleaning standards and shop primed with Tnemec's proprietary zinc-based primer. Following the primer coat, the surfaces received an intermediate coat of Tnemec's Epoxoline and finished with Series 1071V Fluoronar. Not only does this FEVE based coating system fulfill the stringent LEED guidelines for green building, it also outperforms coating systems such as pvdf, which have a lower coating life span and are typically replaced with FEVE based coatings.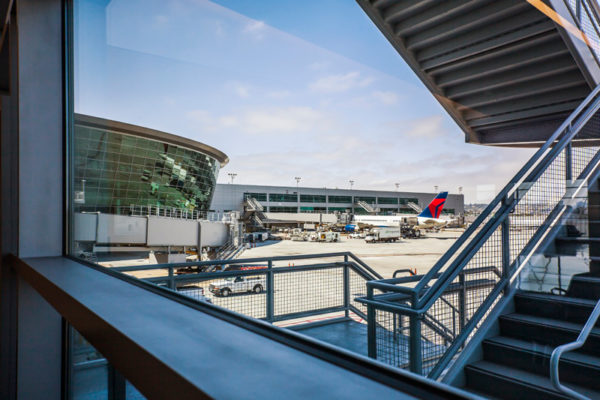 San Diego International Airport's website states, "On April 9, 2014, San Diego International Airport was awarded Leadership in Energy and Environmental Design (LEED) Platinum certification for The Green Build terminal expansion from the U.S. Green Building Council (USGBC). The award makes San Diego International Airport home to the first LEED Platinum certified commercial airport terminal in the world."
LUMIFLON®, a product of the Asahi Glass Company, is a fluoropolymer resin that offers distinct advantages to the architectural market. LUMIFLON® provides architects with the option of using brighter colors and higher gloss, allowing gloss values as high as 90; offers the flexibility to be heat cured or cured at ambient temperature, giving fabricators a choice between shop application or application in the field; and can be used successfully on a number of materials, including steel, aluminum, fiberglass, concrete and polycarbonate for 30 years without fading.
Images and information courtesy of ©Tnemec and San Diego International Airport.