In a revitalization program of Oklahoma City, Mayor Mick Cornett would enlist civil engineers from all over the country in order to create an iconic footbridge that would span across Interstate 40. His vision for a bridge that reflects the city's eccentricity and bright future was transposed into a beautiful tubular steel bridge. The 197-foot tall steel bird structure at one end is based on Oklahoma's state bird, the scissor tailed flycatcher. The Skydance Bridge's aesthetic is complemented with the use of Tnemec's high-performance Series 1071 fluoronar industrial coating with Lumiflon FEVE resin with unparalleled durability and resistance against outdoor exposure.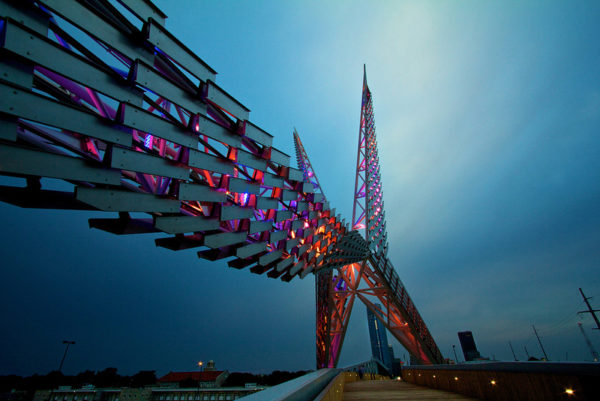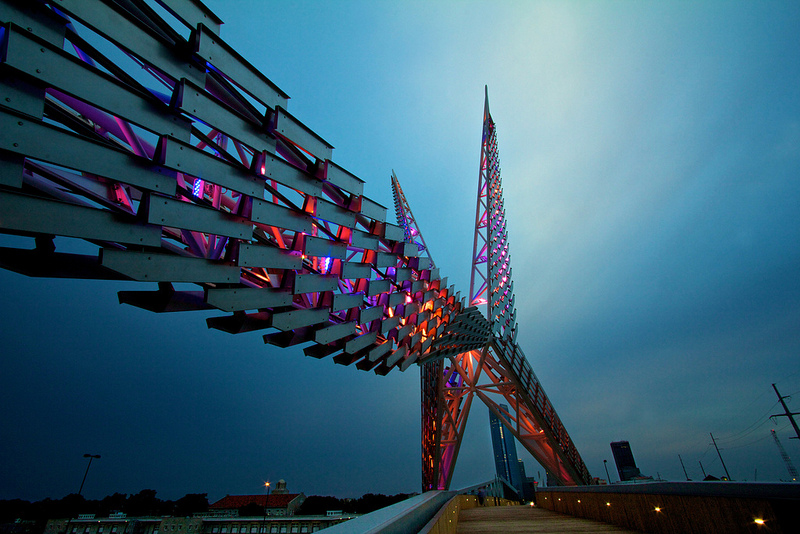 All of the tubular steel was prepared in W&W Steel's shop to the SSPC-SP10/NACE No. 2 Near White Blast Cleaning standard. Using tnemec's three-stage coating system, the tubular steel was coated with Series 90-97 Tneme-Zinc primer for added corrosion resistance. Then, an intermediate coat of Series 750 UVX polyurethane at 2.0-3.0 mils was applied. The topcoat that was specified was Tnemec's Series 1071 Fluoronar with Lumiflon FEVE fluoropolymer technology for high-performance color and gloss retention. When the steel was delivered to the jobsite, only minor touch ups were required.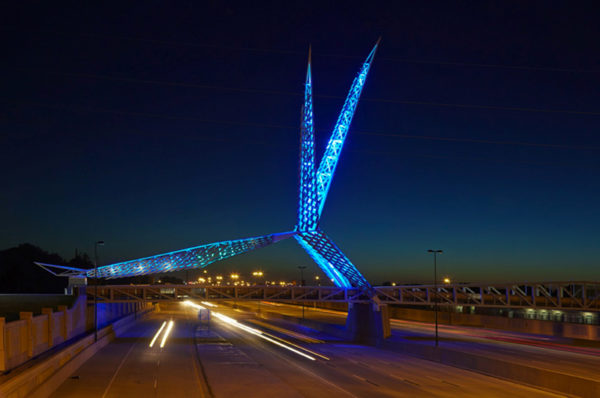 The Skydance Bridge was designed and built to withstand the most severe outdoor exposures that the Midwest can be subjected to. Oklahoma City also wanted a coating system that would last to prevent closing I-40 for recoating or maintenance. Not only does the Tnemec coating system with Lumiflon FEVE resin add to the aesthetic of the bridge, it exceeds the performance of similar topcoat systems that could have been used.
Lumiflon, a product of the Asahi Glass Company, is a solvent-soluble fluoropolymer that offers distinctive advantages to architectural and industrial maintenance markets. Lumiflon provides architects and engineers with the option of using brighter colors and higher gloss, allowing gloss values as high as 90; offers the flexibility to be heat cured or cured at ambient temperature, giving fabricators a choice between shop application or application in the field; and can be used successfully on a number of substrates, including steel, aluminum, fiberglass, concrete and polycarbonate for 30 years or more without fading.
Images and information courtesy of © Tnemec, Bhamarchitect, The City Sentinel and Sooner Spaces