Named after former Yankees center field and baseball legend, the Joe DiMaggio Children's Hospital is the modern and environmentally friendly pediatric unit of the Memorial Regional Hospital in Hollywood, Florida. The hospital provides amenities such as private rooms, games, movies and a clubhouse for its patients. In addition, the hospital achieved a LEED Gold rating in 2012 for its measures in sustainability. The brightly colored curtain walls use aluminum composite panels coated with PPG's Coraflon ADS coating with Lumiflon FEVE resin.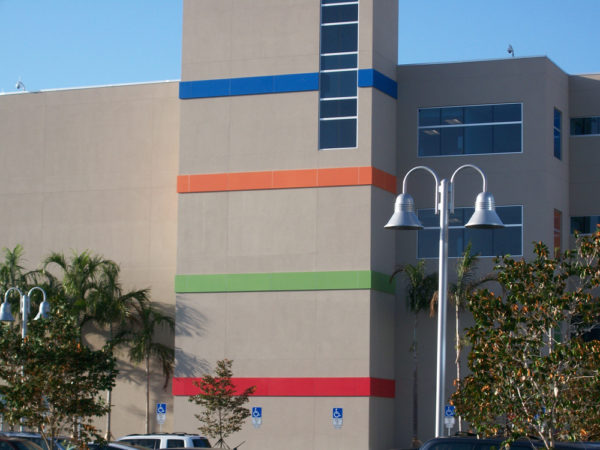 The chemical properties of FEVE resins allow for vibrant color variations as seen on these panels. The resins also provide extreme durability against ultraviolet degradation, adverse weather conditions and humidity that is characteristic of the southeastern coastal region in which Hollywood is located. In addition, should the aluminum composite panels become damaged where repair or replacement is required, Coraflon ADS with FEVE resins can be field-applied and color-matched to existing panels for a factory-applied look.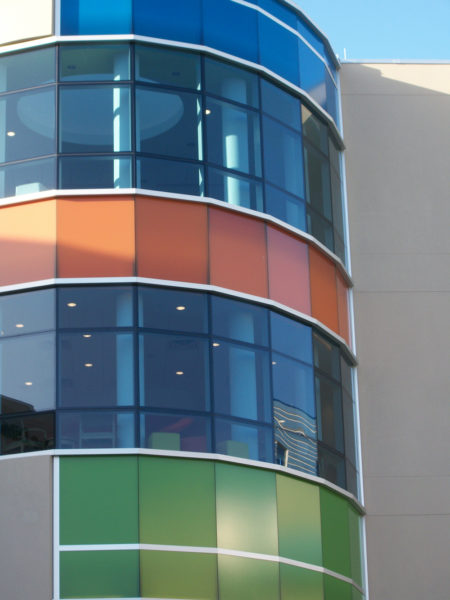 The colorful façade of the Joe DiMaggio Children's Hospital adds a sense of playfulness to an otherwise ordinary healthcare building. First-class healthcare is complimented with outstanding building design and construction, along with modern materials and sustainability attributes.
Lumiflon, a product of the Asahi Glass Company, is a solvent-soluble fluoropolymer that offers distinctive advantages to architectural and industrial maintenance markets. Lumiflon provides architects and engineers with the option of using brighter colors and higher gloss, allowing gloss values as high as 90; offers the flexibility to be heat cured or cured at ambient temperature, giving fabricators a choice between shop application or application in the field; and can be used successfully on a number of substrates, including steel, aluminum, fiberglass, concrete and polycarbonate for 30 years or more without fading.
Images and information courtesy of © SAF