The Museum of the Moving Image in Astoria, New York was originally a historic movie studio complex. In July 2013, the 60,000 square-foot complex was completely renovated, along with a 40,000 square-foot addition. The museum now exhibits a futuristic exterior, clad in triangular cut aluminum panels that blend with the color of the sky. The aluminum skin is coated with PPG's Coraflon ADS coating with Lumiflon FEVE fluoropolymer resins that contribute to the brilliant aesthetic of the exterior.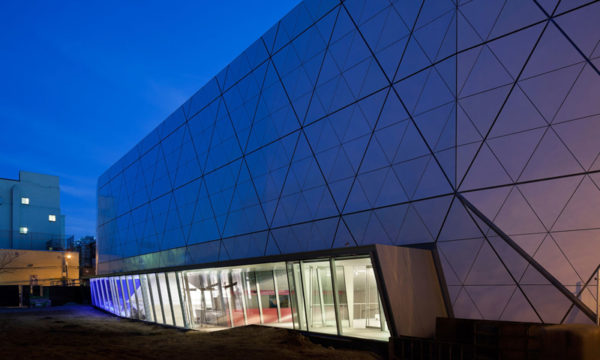 The facade of the museum is clad in thin blue nickel satin aluminum panels in triangular patterns, installed by MG McGrath Inc. Using a 3-inch deep reveal system, the small triangular panels are arranged to create larger triangle patterns to give an illusion of a floating surface. The lighting system is hidden within the open panel joints, adding emphasis to the desired floating effect.
The light-blue panels are coated with PPG's Coraflon ADS, a high-performance FEVE resin fluoropolymer based coating that provides exceptional gloss, color retention and weatherability properties. The chemical properties of FEVE resins intensify the brightness and reflectivity of the aluminum panels that cannot be achieved with other fluoropolymers, such as PVDF.
"Light blue in color, the panels look razor-sharp but create the impression of a super-light floating skin dematerialized against the sky: another visual reference in the architecture to the infinite thinness of the moving image," explains Mike P. McGrath, president of MG McGrath.
Images and information courtesy of © Metal Architecture