After almost 70 years of service, the original Topeka Boulevard Bridge connecting North and South Topeka was badly deteriorated. The bridge was rebuilt from 2006 to 2008, with the addition of guarded walkways and aesthetic amenities. The project's engineer contacted Tnemec's coatings consultant, Rick Penner, for a high performance red coating that would not fade to pink like other coatings systems. Tnemec's Series 1071 Fluoronar with Lumiflon FEVE resin technology was chosen for the bridge's coating system for its long lasting color retention, ease of application and durability.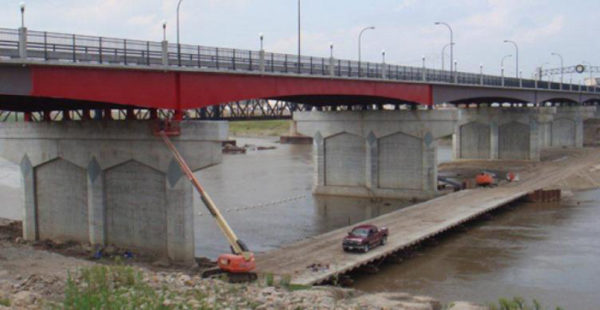 Thomas Industrial Coatings of Pevely, Mississippi prepared the structural steel to SSPC-SP6/NACE 3 Commercial Blast Cleaning standards. The beams were then treated with Series 90-97 Tnemec-Zinc primer. In addition to corrosion protection, the zinc primer was able to touch up welds and areas where the steel meets the concrete base. An intermediate coat of Series 1075 Endura Shield II acrylic polyurethane was applied followed by a topcoat of Fluoronar. Although the intermediate and topcoats were different shades of red, Penner states, "This was necessary so that applicators could ensure complete coverage by the finish coat without leaving skippers."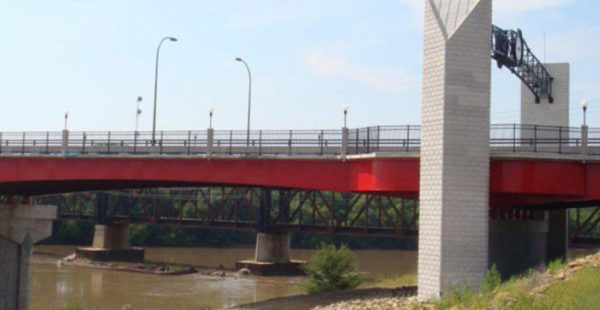 Aside from the zinc primer, the intermediate and topcoats were brush and roller applied. The contractors were able to apply nearly 1,600 gallons of primer, intermediate and finish coating from lifts and suspension rigs above the water. The Fluoronar coating gave the bridge a beautiful and uniform red color, as well as superior weathering resistance and UV protection that is characteristic of Lumiflon FEVE fluoropolymer resins.
Lumiflon, a product of the Asahi Glass Company, is a solvent-soluble fluoropolymer that offers distinctive advantages to architectural and industrial maintenance markets. Lumiflon provides architects and engineers with the option of using brighter colors and higher gloss, allowing gloss values as high as 90; offers the flexibility to be heat cured or cured at ambient temperature, giving fabricators a choice between shop application or application in the field; and can be used successfully on a number of substrates, including steel, aluminum, fiberglass, concrete and polycarbonate for 30 years or more without fading.
Images and information courtesy of © Tnemec and Thomas Industrial Coatings.