The Sorensen Station Parkade and Transit Terminal in Red Deer, Alberta, Canada is a development named after Gordon Lloyd Sorensen, the man who developed Red Deer's first transit system in 1957. The parking deck offers residents and businesses over 300 parking spots in addition to 100 daily spaces; the space also contains a Transit office, kiosk rentals, public restrooms, and a customer service center.
The three-story parking deck received an upgrade in 2010, when a curved roof was added to the stop of the development. Igloo Erectors Ltc. of Calgary, Alberta described the project as one of their most interesting and challenging jobs, as they had taken up the task of fabricating and installing the aluminum composite material (ACM) onto the canopy.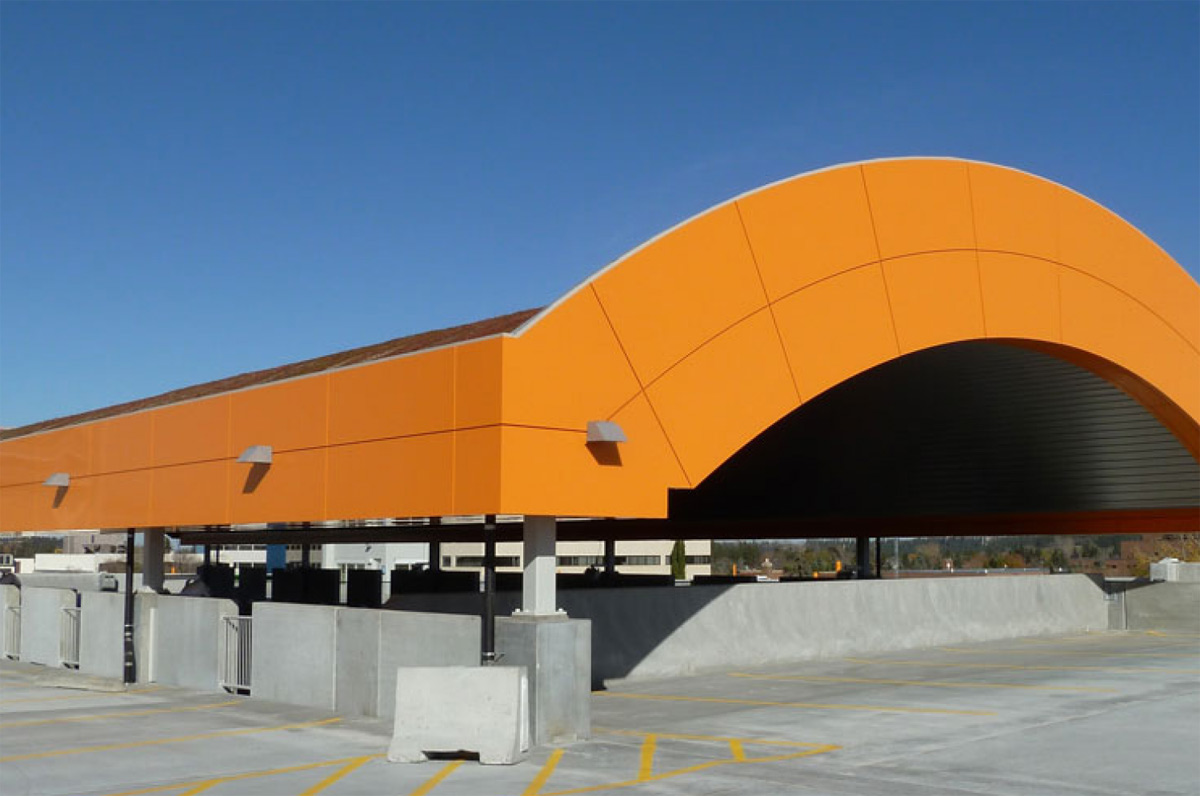 The radiused roof panels are made up of prismatic-finish alpolic/fr ACM panels, which are also installed along the sidewalls of the structure. Architect John Murray Architectural Associates Ltd. of Red Deer, Alberta chose the colors from ALPOLIC's Prismatic line that were used for the project. The architects selected the Prismatic color line because of the color-changing appearance of the ACM enhanced the aesthetic of the parking deck. For the project, a vibrant shade of orange resembling orange juice was chosen for the top level curved roof and other main parts of the parking garage. A plethora of other custom colors can also be spotted throughout the project.
ALPOLIC's Prismatic line provides ACM panels that have received a Lumiflon FEVE resin topcoat. The fluoropolymer offers a long-lasting, hyper-durable coating with excellent color and gloss retention capabilities. The composition of Lumiflon FEVE resin's formulation offers a coating that will be able to withstand UV radiation, salt, moisture, and other elemental deterrents that contribute to coating degradation.
Photos courtesy of ALPOLIC
Information courtesy of Igloo Erectors