The Rotunda at the University of Virginia is a lasting testament of Thomas Jefferson's contributions to the formation of the United States as a founding father. The historical building, located in Charlottesville, Virginia, was designed by the third President of the United States and Rome's Pantheon was used as the inspiration for the Rotunda's design. The original building, which served as the center of the academic village, was unique in the fact that at the time of the Rotunda's construction, it was common for churches to be the centerpiece of 19th century university campuses. However, contrary to that trend, the heart of UVA's compus held a library instead of a place of worship, as Thomas Jefferson emphasized the importance of acquiring knowledge. Today, the Rotunda stands as a part of Jefferson's legacy; it's a testament to his dedication to education and architecture in addition to his strong belief in the separation of church and state.
Since the completion of the original building in 1826, the Rotunda had been left to endure the test of time. After a fire in 1896, which severely damaged the Rotunda, New York architect, Stanford White, was commissioned to design a new dome; a copper one was put in place, replacing the original design which employed sheet-iron shingles that were tin-coated; coating degradation led to the development of a chalky, white film over the surface of Jefferson's design.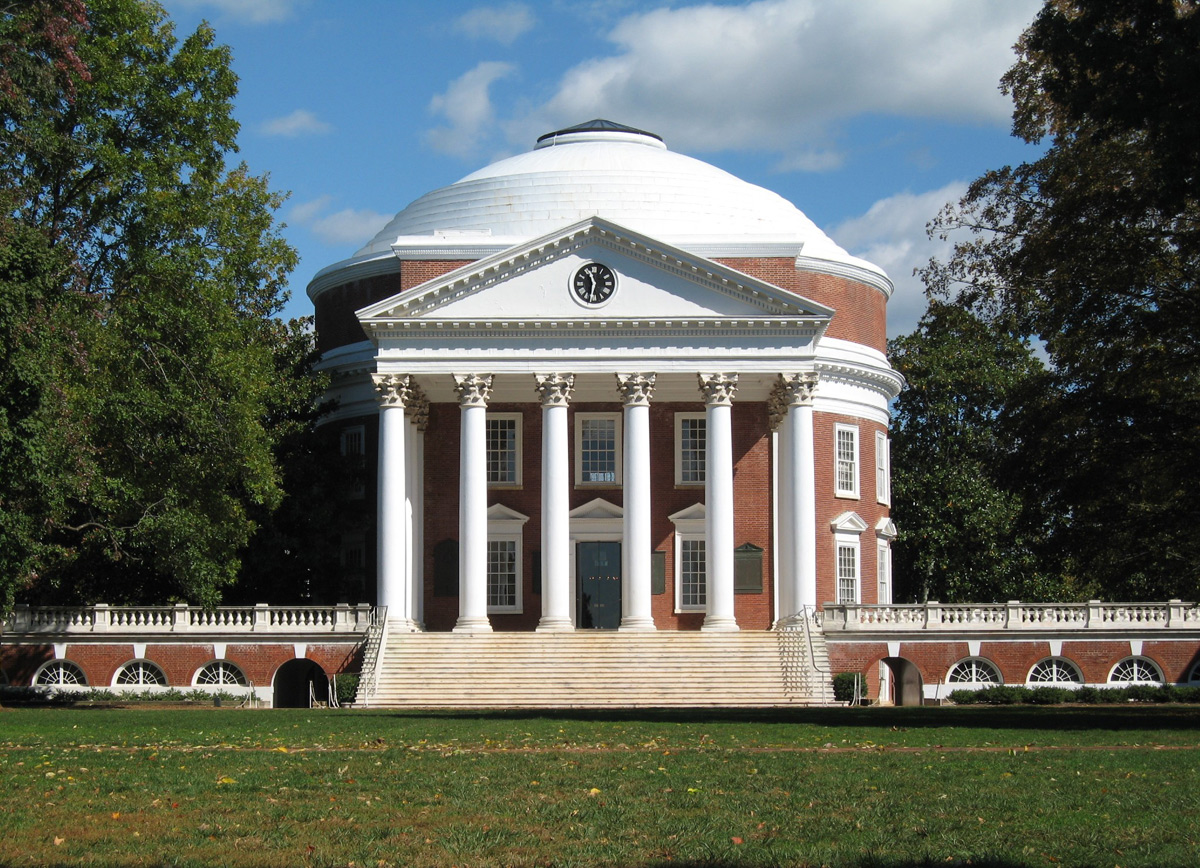 Corrosion slowly overtook the copper dome until the 1970s, when the university underwent another restoration project. This time, the copper dome was replaced with one with steel panels that were painted white until 2013.
The newest renovation project was completed in 2013, where the dome was replaced once again with copper and was painstakingly prepared, primed, and coated to match the color of the building's original trimmings and doorframes in 1976. For the Rotunda's most recent upgrade, a Coraflon fluoropolymer coating system was chosen after analyzing and researching the possible candidates for the job.
PPG's Coraflon employs Lumiflon FEVE resin technology that protects a coating against UV radiation, rain, salt, and other elemental deterrents, preventing coat degradation. The low-VOC fluoropolymer is ideal for high-exposure projects like the Rotunda, as the FEVE resin ensures color and gloss retention of a coating which will allow the building to remain in pristine condition for decades.
Photos courtesy of the University of Virginia