Guest Author: Kristen Blankenship, Architectural Specifications and sustainability Lead at IFS Powder Coatings, Inc.

powder coatings offer excellent performance with a smaller carbon footprint thanks to the lack of VOCs required for processing and application. Instead of using a mixing blade and large vessel to blend raw materials, powder coatings use extruders that combine heat and friction to mix all the components together. The result is a paint in powder form. Everything you want and nothing more.

Powder coatings are used for numerous applications from your refrigerator to the curtain wall of any of the iconic towers in well- known metropolises. Just like their liquid ancestors, powder coatings are formulated with many different types of materials. They can be based on epoxy, polyester, and polyurethane chemistry. To achieve the highest level of exterior durability, FEVE fluoropolymer technology is the go- to chemistry.

Liquid and powder coatings can both utilize fluoropolymer chemistry like FEVE as well as pvdf. FEVE is the preferred fluoropolymer for superior performance, ultra- durable powder coatings.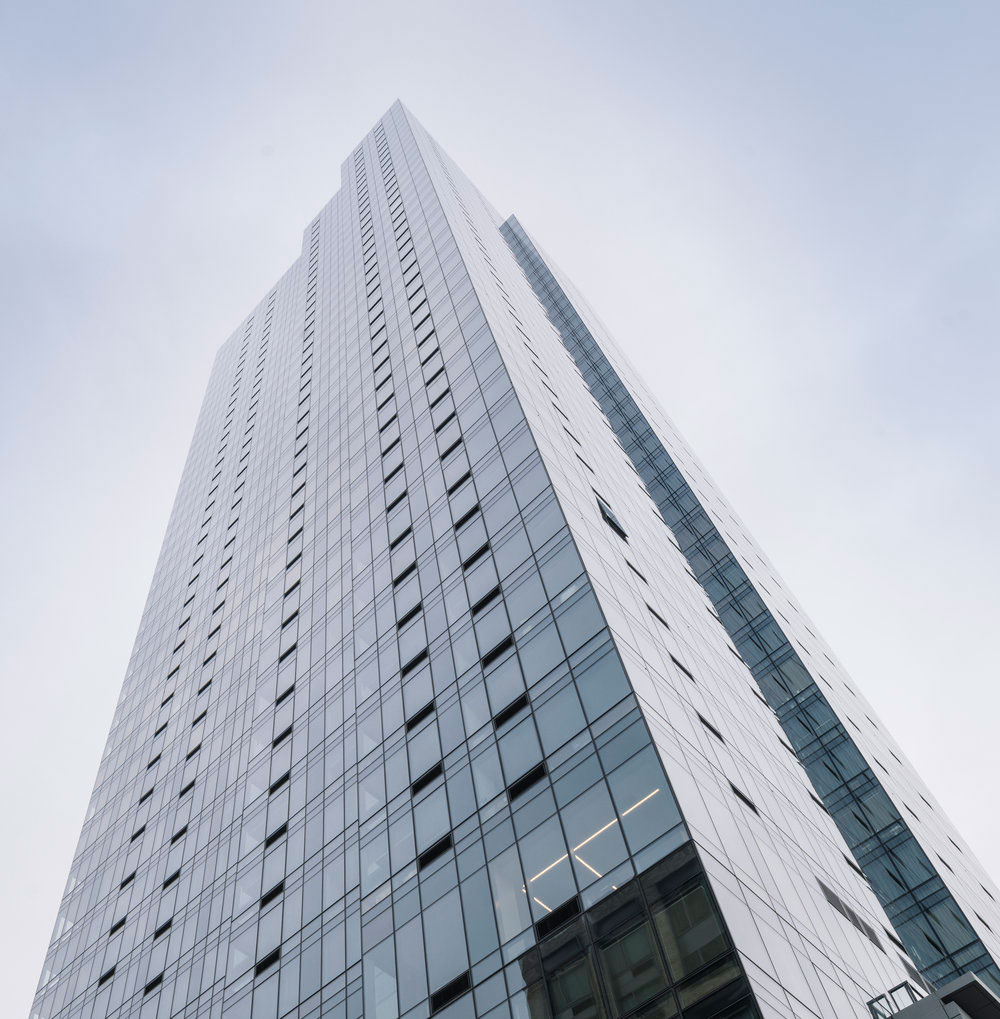 FEVE resin technology is based on a unique, alternating copolymer chemistry that combines the superior stability of fluorocarbon chemistry with the tried-and-true hydrocarbon chemistry that so much of the paint industry has relied on for decades. This unique chemistry results in a fluoropolymer that is amorphous (non- crystalline) meaning it can achieve high gloss and transparent films- something PVDF can't. It also allows for functionality that is crosslinkable. OH- functional FEVE resins are used to make powder coatings that crosslink resulting in tough, durable, scratch and mar resistant films that are known across the architectural industry.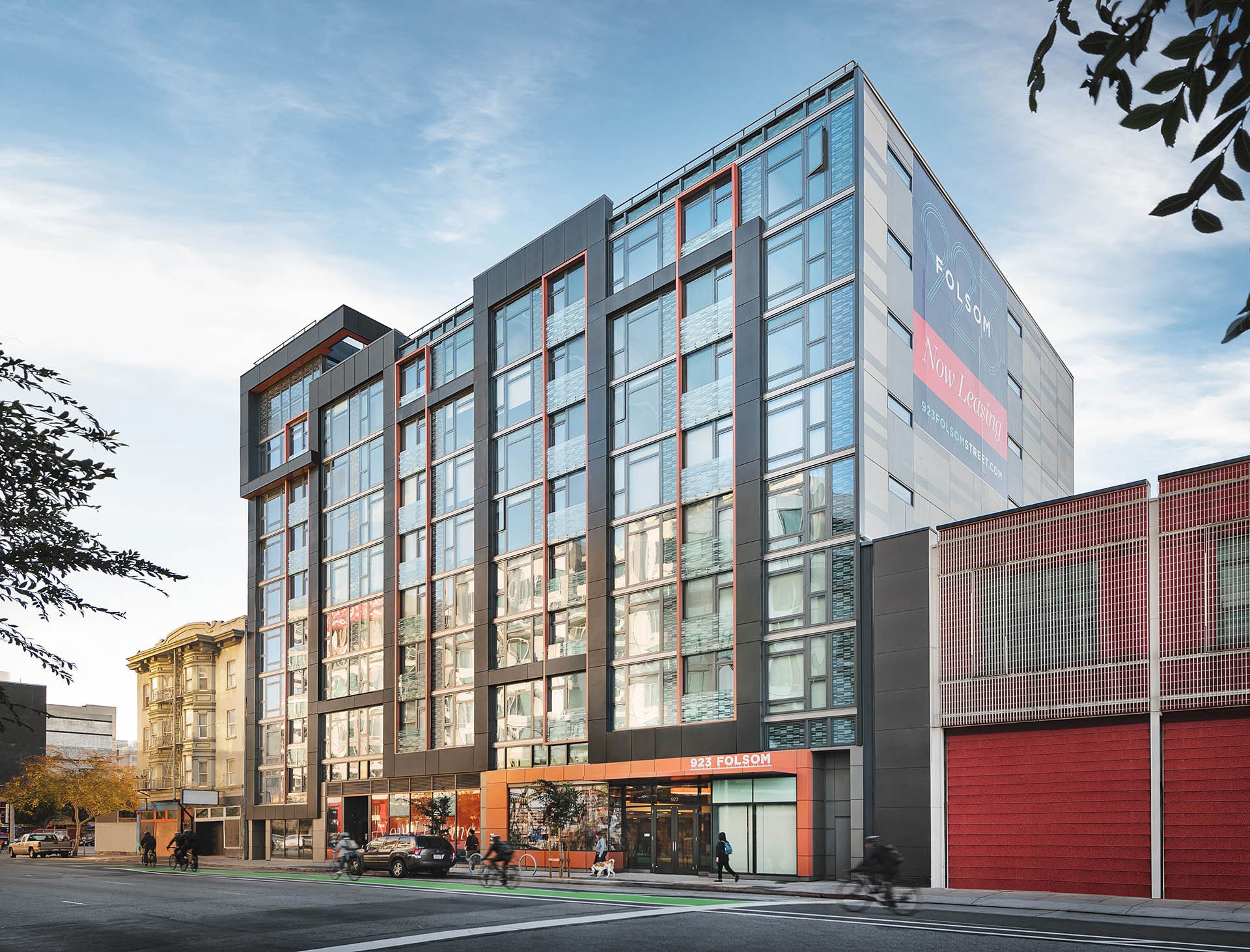 Powder coatings based on FEVE fluoropolymers make a positive impact on both the operational carbon and embodied carbon footprints of structures. FEVE powder coatings have shown to have a lower carbon footprint when compared to solvent based coatings and anodizing. The graphic shows the results of a gate-to-gate life cycle assessment of a coater. This study starts with the incoming and receiving of raw materials and ends at the shipping dock. Each category is normalized amongst all three categories as the units for each category differ. As you can see the powder coating and the powder application process has the lowest impact. This results in a lower embodied carbon on a project.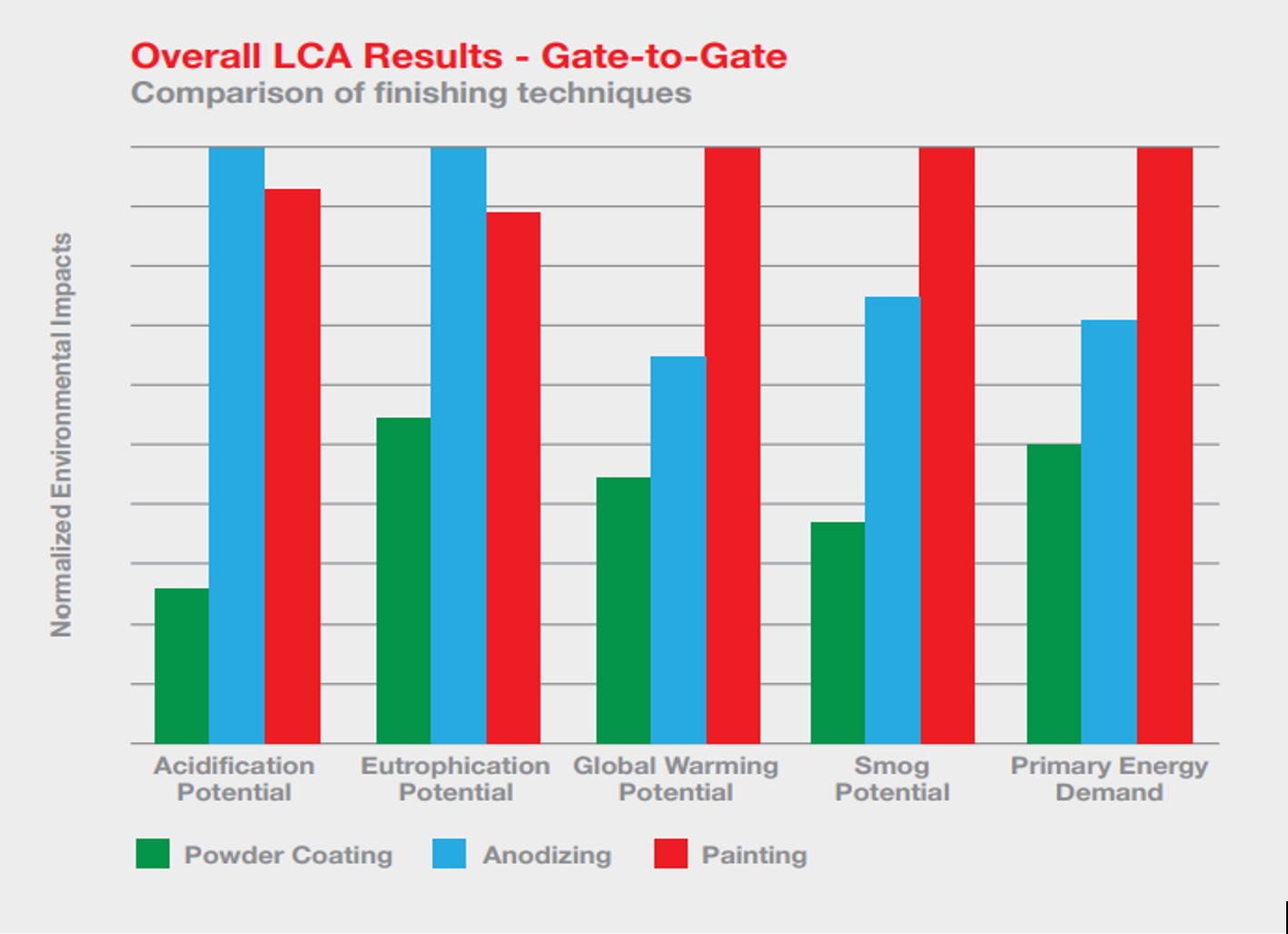 FEVE powder coatings have superior weather resistance and thus do not need recoating for decades. This eliminates the need for repainting during the lifecycle of the coating which reduces the operational carbon of a project.

The sustainability profile of FEVE powder coatings is multi-faceted. They do not rely on solvents or VOCs in manufacture. They are delivered to the coater or fabricator virtually VOC free thus energy intensive thermal oxidizers are not needed for VOC mitigation. They also do not require the use of chrome- based primers on aluminum which reduces waste and water demand in the coating process. The powder coating process allows for very high transfer efficiency and high material usage. Powder that doesn't make it onto a part can be reclaimed and reused if desired. Long- life, FEVE- based powder coatings are the environmentally responsible choice for your project.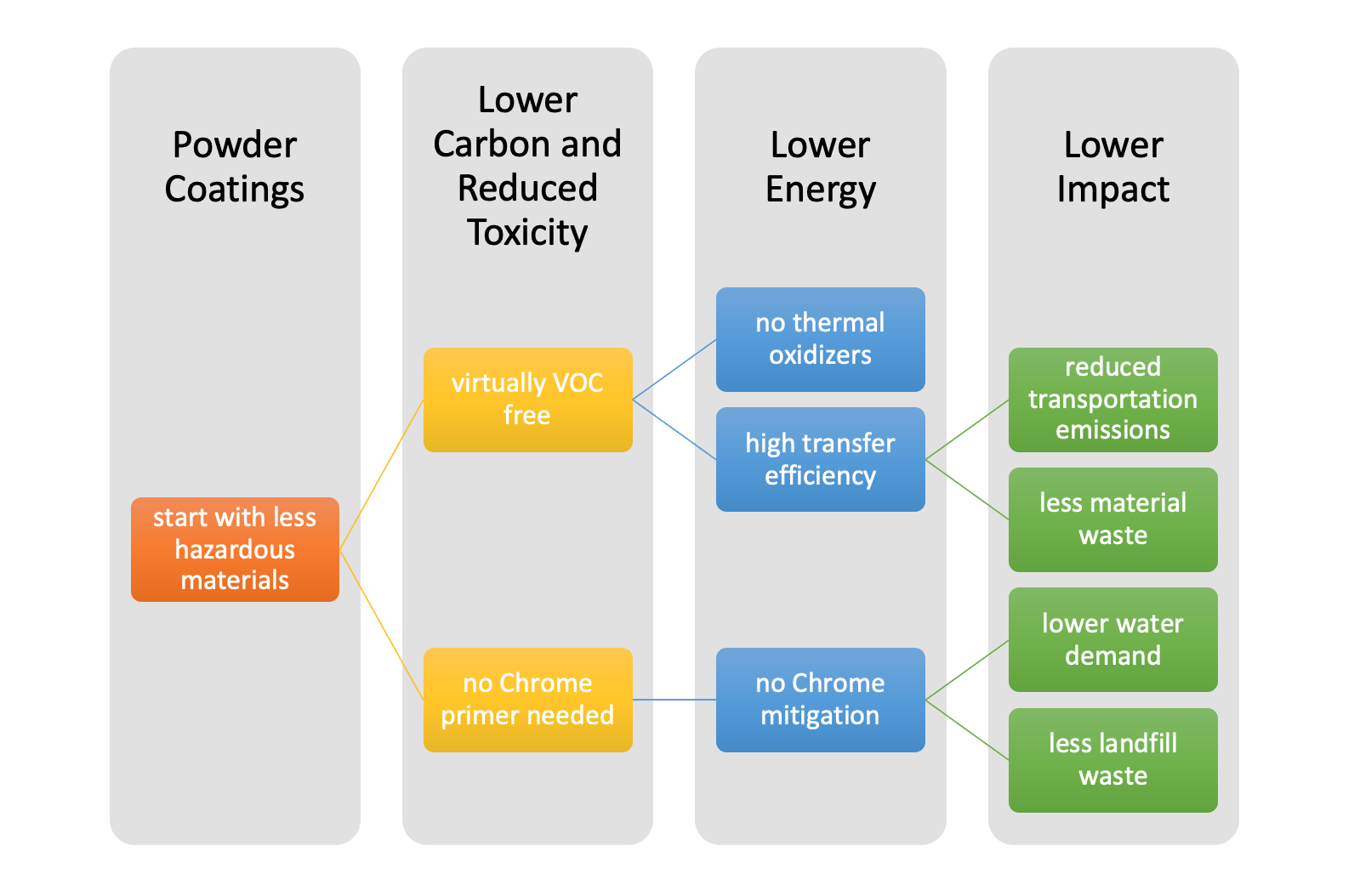 Adding the option for FEVE powder in your specification, like IFS 500FP FEVE fluoropolymer powder coating, not only helps to potentially lower the carbon footprint of your design but also gives you a better chance at meeting project deadlines. Supply chain issues continue to be the rule rather than the exception and adding multiple finish options provides supply chain flexibility.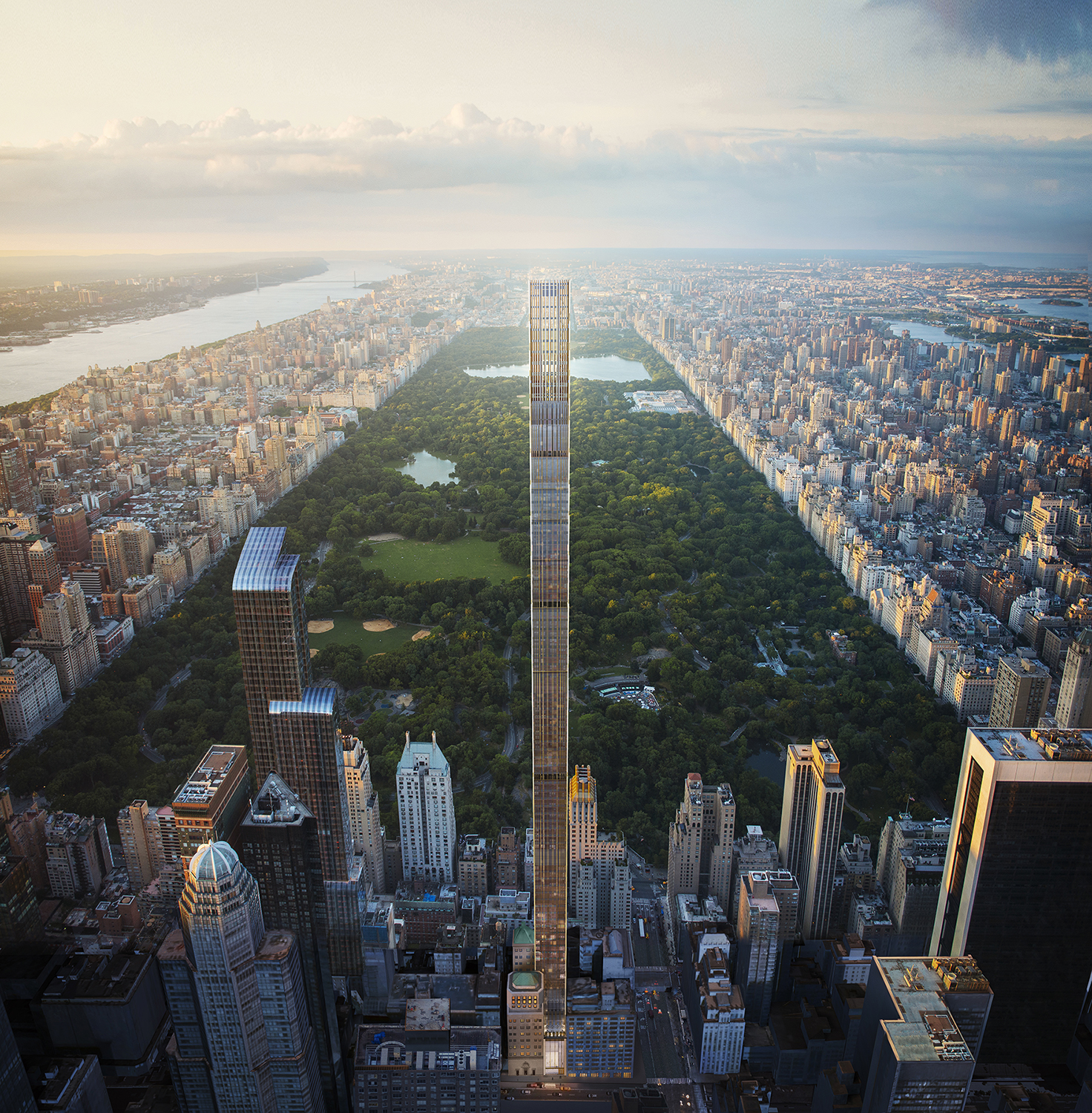 Powder coatings offer a more sustainable option for the environment and structures coated with powder have lower embodied carbon. Powder coatings based on FEVE resin technology are the ultimate choice for environmentally responsible, ultra- weatherable, long- life finishes that will enhance the environment for decades to come.