LUMIFLON FEVE resins are used in a wide range of applications. This is in part due to the variety of FEVE resins available. Besides the standard solvent based resins, FEVE resins are offered as solid flakes as well as water-based emulsions and dispersions. Achieving the high level of weatherability of a solvent based resin can be difficult when it comes to water-based systems. Many water-based resins require surfactants which typically increase the hydrophilic nature of the coating resulting in lower weathering performance.
Both a 1K and a 2K system based on water-based FEVE resin technology were tested in Xenon Arc exposure. 60o gloss was measured over the course of up to 5500 hours. The results show that the gloss retention of all systems was over 95%. This is comparable to the solvent based systems.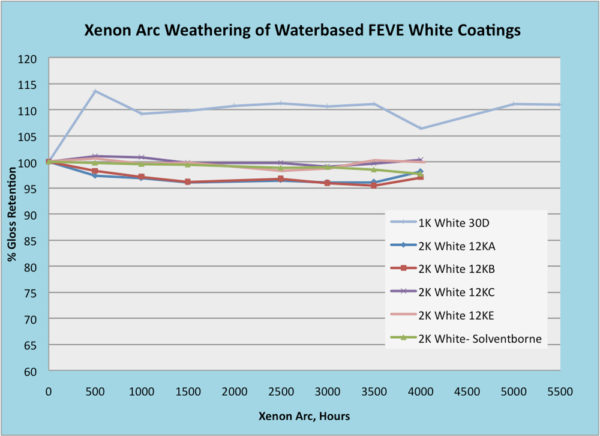 Applications requiring superior weatherability using environmentally friendly materials benefit from waterbased FEVE resins.