The city of Grand Rapids is home to most of the metal truss bridges in Michigan. Above the Grand River sits the famous "Blue Bridge," which connects downtown with local museums and Grand Valley State University. Formerly a double railroad bridge, the Blue Bridge was converted to a footbridge to encourage non-motorized traffic. The Blue Bridge was repainted in 2013 containing Tnemec's fluoronar coating using Lumiflon FEVE resin.
Since the bridge has been opened for pedestrian traffic, its original coating has faded significantly. While not subjected to the harsh conditions that coastal bridges face, the climate of the Grand Rapids region still faces heavy snowfall and freezing temperatures, which do have an adverse impact on infrastructure. In 2013, the city of Grand Rapids had the bridge repainted. Using tnemec's Fluoronar high-solids fluoropolymer coating, the bridge retains its signature bright sky blue color.
Typically, bridges using Fluoronar coatings are prepped with Tnemec's Tneme-Zinc steel primer, followed by their Chembuild epoxy as an intermediate coat. The final coat, Fluoronar, provides structures with a very durable finish with great gloss and color retention. The FEVE resins present in Fluoronar give the coating excellent corrosion and abrasion resistance against ice in the winter months of the Grand Rapids region.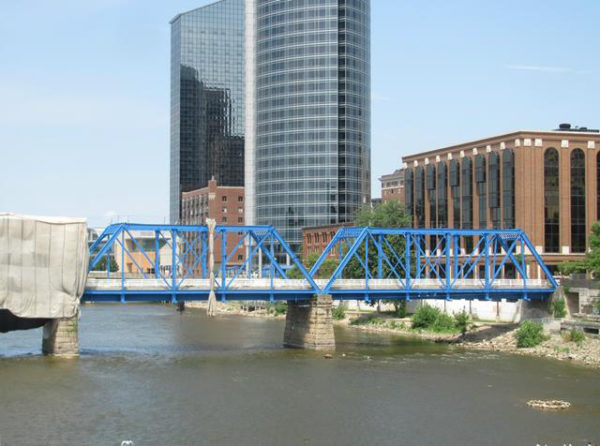 LUMIFLON, a product of the Asahi Glass Company, is a solvent-soluble fluoropolymer that offers distinctive advantages to architectural and industrial maintenance markets. LUMIFLON: provides architects and engineers with the option of using brighter colors and higher gloss, allowing gloss values as high as 90; offers the flexibility to be heat cured or cured at ambient temperature, giving fabricators a choice between shop application or application in the field; and can be used successfully on a number of substrates, including steel, aluminum, fiberglass, concrete and polycarbonate for 30 years or more without fading.