Utilizing Tnemec's advanced fluoropolymer coating system, the St. Robert, Missouri water tank embodies its advertising slogan, "Put a Tiger in Your Tank." The tank is completely enveloped in orange with black tiger stripes. The slogan, and the tank's design, was interestingly the work of Steve Long , public works Director of the City of St. Robert.
tnemec coating consultant, Scott Keilbey, explains, "He did a great job with the design dimensionally. The orange and black motif with the message, 'St. Robert is Tiger Country,' reflects the community pride in the Waynesville High School mascot and colors.
"The project involved a complete recoat of the tank's exterior and interior. Exterior steel was prepared in accordance with SSPC-SP6/NACE No. 3 commercial Blast Cleaning and primed with Series 94-H2O Hydro-Zinc, a single-component, moisture-cured, aromatic zinc-rich urethane. An intermediate coat of Series 73 Endura-Shield, an acrylic polyurethane, was applied over the primer to provide additional film thickness for corrosion resistance. The finish coat, Series 700 hydroflon, is an advanced fluoropolymer that offers outstanding resistance to ultraviolet (UV) light degradation providing unprecedented long-term gloss and color retention."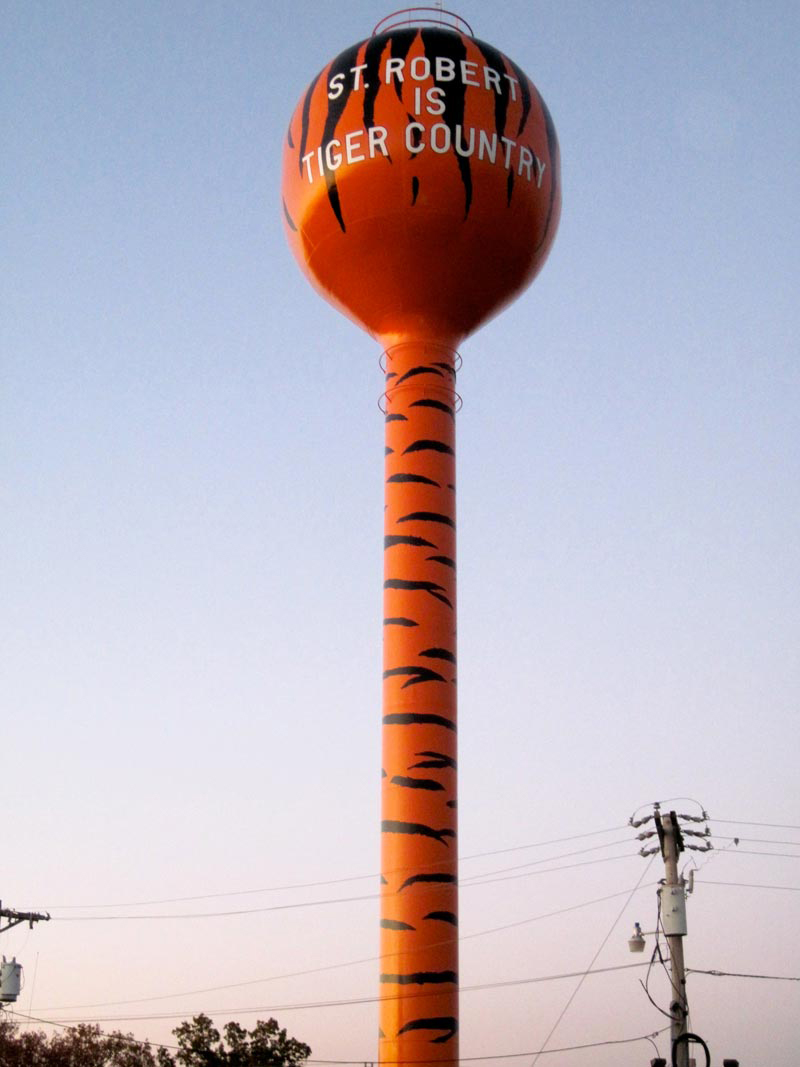 Unlike most water tanks, which are designed by an engineering firm or team of graphic designers, Long completed the tank's artwork. He created three designs which he gave to Field Applicators Ozark Applicators, out of Missouri, which determined what would look best on the 250,000-gallon elevated water tank.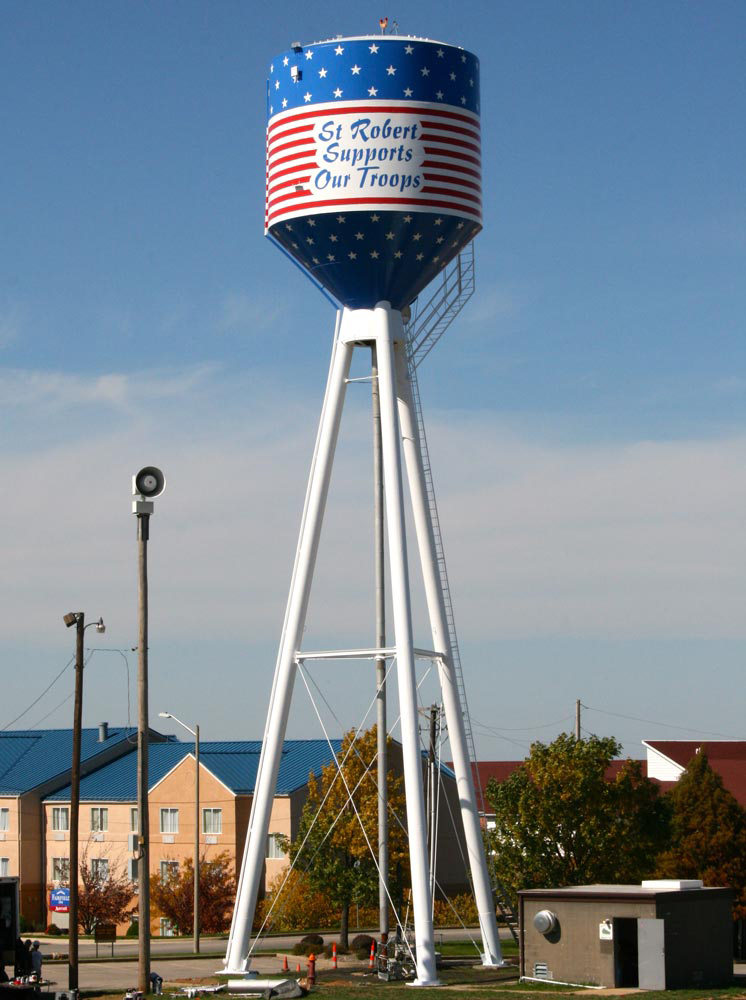 Long also displayed his design talent on another St. Robert tank near Fort Leonard Wood military base. The tank showcases the town's patriotism with an American flag ode to supporting the troops. The Fort Leonard tank also utilizes the advanced fluoropolymer coating system, Series 700 HydroFlon.
The Hydroflon coating system, from Tnemec, features LUMIFLON FEVE-based resin, which protects the vibrancy of the tank. The unique fluoropolymer resin resists corrosion and protects the tank from the humid, dry seasons characteristic of Missouri's climate. In addition to its superior weatherability qualities, Hydroflon has the highest gloss range of any fluoropolymer coating, ensuring the lifespan of the tank without chalking or fading.
Photos via Ozark Applicators and Tnemec