The first thing people see coming into Panama City, Florida is the Panama City Legged Water Tank. Before its renovation, it was "an unused and uninspiring liability to a community asset." It came to the city's attention that the tank was in need of a restoration, and they were looking for the best coating solution possible. Lumiflon FEVE resin formulations in coatings, such as Tnemec's hydroflon, provide excellent ultraviolet (UV) resistance, gloss retention, as well as accommodate a range of vibrant colors for greater aesthetics.
The water tower was in a draped containment system to protect motorists and businesses prior to any work done. The steel surface was prepared to SSPC-SP6/NACE No. 3 commercial Blast Cleaning standard, and primed with tnemec's Hydro-Zinc primer and Epoxoline. An intermediate coat of Tnemec's Endura-Shield II polyurethane was roller applied for additional thickness and corrosion resistance on all surfaces. The final coat of Tnemec Series 700 HydroFlon with Lumiflon FEVE fluoropolymer technology was also roller applied to provide UV resistance and color and gloss retention.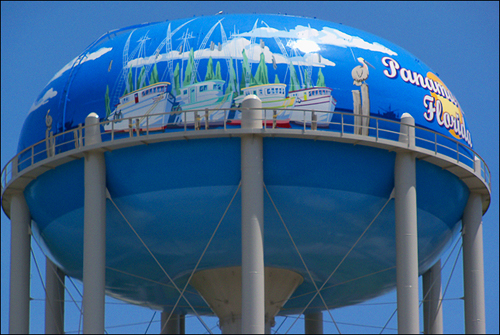 In addition, 25 different colors of HydroFlon coatings were used for the lettering and an artistic mural on the face of the tank. The mural reflects the nautical theme of Panama City with its birds, boats and beautiful beach. Robert Crumbaugh of SteelCon Coating Systems states, "City officials are calling the restored water tower a landmark because of its impressive mural, which serves a dual purpose by protecting the structure from corrosion."
LUMIFLON, a product of the Asahi Glass Company, is a solvent-soluble fluoropolymer that offers distinctive advantages to architectural and industrial maintenance markets. LUMIFLON: provides architects and engineers with the option of using brighter colors and higher gloss, allowing gloss values as high as 90; offers the flexibility to be heat cured or cured at ambient temperature, giving fabricators a choice between shop application or application in the field; and can be used successfully on a number of substrates, including steel, aluminum, fiberglass, concrete and polycarbonate for 30 years or more without fading.
Images and information courtesy of © Tnemec and Utility Service Group