Owner: City of Roswell, NM
Engineer: Tank Industry Consultants
Field Applicator: Viking Industrial Painting
Applicator/Fabricator: Landmark Structures
Coatings Manufacturer: tnemec Company Inc., Series 700 hydroflon

Great water tanks represent the town in which they reside. These tanks most usually feature signature elements of the city, historical features, or simply something the township is proud of. For example, the city of Roswell, in southeastern New Mexico, has such an element as it is the home of the alleged UFO crash in 1947 and the International UFO Museum and Research Center and Gift Shop.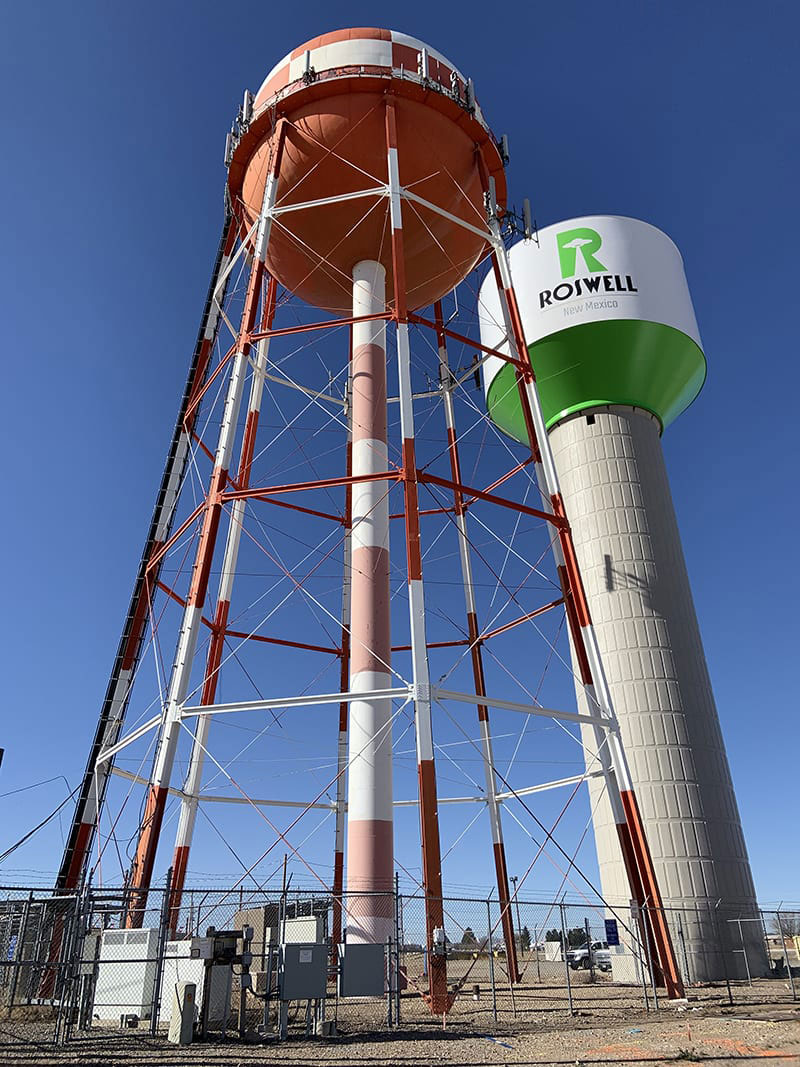 ©Roswell Daily Record

The Roswell water towers, which sit at the Roswell Air Center, were set to be painted orange, a safety recommendation from the Federal Aviation Administration. Yet, the infrastructure Committee persistently pushed to have the towers painted green since they technically sit out of the flight zone. City Engineer Louis Najar describes the original colorway as, "Whataburger orange," which was vehemently discarded for a cleaner color palette of green, black, and grey.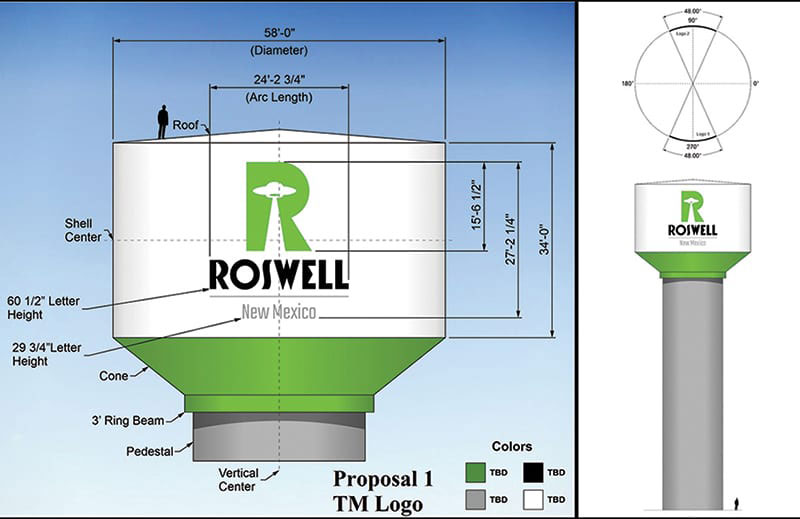 ©Roswell Daily Record

Interestingly, one of the original design ideas featured the city's logo comprised of an R that doubled as a UFO beam, and the second was the city's name with a green alien head above it. Caleb Grant, Roswell City Council members of the Infrastructure Committee, told the local Roswell Daily Record, "I don't know if I was a resident out there that I'd like to be looking at an alien head out of my back window. I'm not against it all. However, I think this is a classier way to do it."

The team landed on the first design, a classic, provoking, and modern interpretation of the town's illustrious history. Next, the team commissioned the coating experts at Tnemec to ensure a high-performance and long-lasting coating system. The team at Tnemec Company describes, "Roswell painted their water tank in 2020 with a logo that showcases the town's history, using Tnemec's fluoropolymer finish coat, HydroFlon, for long-term color and gloss retention. The resulting tank is sure to remain beautiful for locals and remain a great landmark for any special 'visitors,' too."

The Series 700 HydroFlon fluoropolymer finish ensures long-lasting gloss and color retention. This next-generation, high-performance fluoropolymer contains Lumiflon FEVE technology, primarily contributing to the coating system's hyper-durability. In addition, Lumiflon FEVE resin protects water tank surfaces, helping prevent coating degradation at the hands of UV radiation, salt, and water. FEVE-based coatings also offer superior color and gloss retention and anti-corrosion properties that maintain the coating's structural integrity.

Main Image courtesy of ©Tnemec Company
Features Images courtesy of ©Roswell Daily Record