Standing at 400 feet at its tallest point, the Cold Spring Canyon Arch Bridge is the largest steel arch bridge, as well as one of the highest bridges in the United States. Built by US Steel's American Bridge division and Massman Construction Co. and officially opened in February 1964, the bridge is located on State Route 154, between Santa Barbara and Santa Ynez. In 1976, the American Society of Civil Engineers designated the Cold Spring Canyon Arch Bridge as a Historic Civil Engineering Landmark.
Through its lifetime, the bridge had undergone a number of developments, from a seismic retrofitting in 1998 to the installation of a 9.5 foot tall barrier in 2012. The addition was in response to the 55 suicides that had taken place at the bridge.

Most recently, the California Department of Transportation (Caltrans) put out a bid for a project that involved cleaning, painting, and inspecting the structure. Certified Coatings Company ultimately won the bid for the job, and began work on the site during the COVID-19 pandemic. The project, spanning 220,000 square-feet, took a crew of 15 to 20 people, working together over the course of three years.
The project was not without its own challenges, the biggest one being the fact that the job was located on a two-lane highway, in addition to the height the company was working with.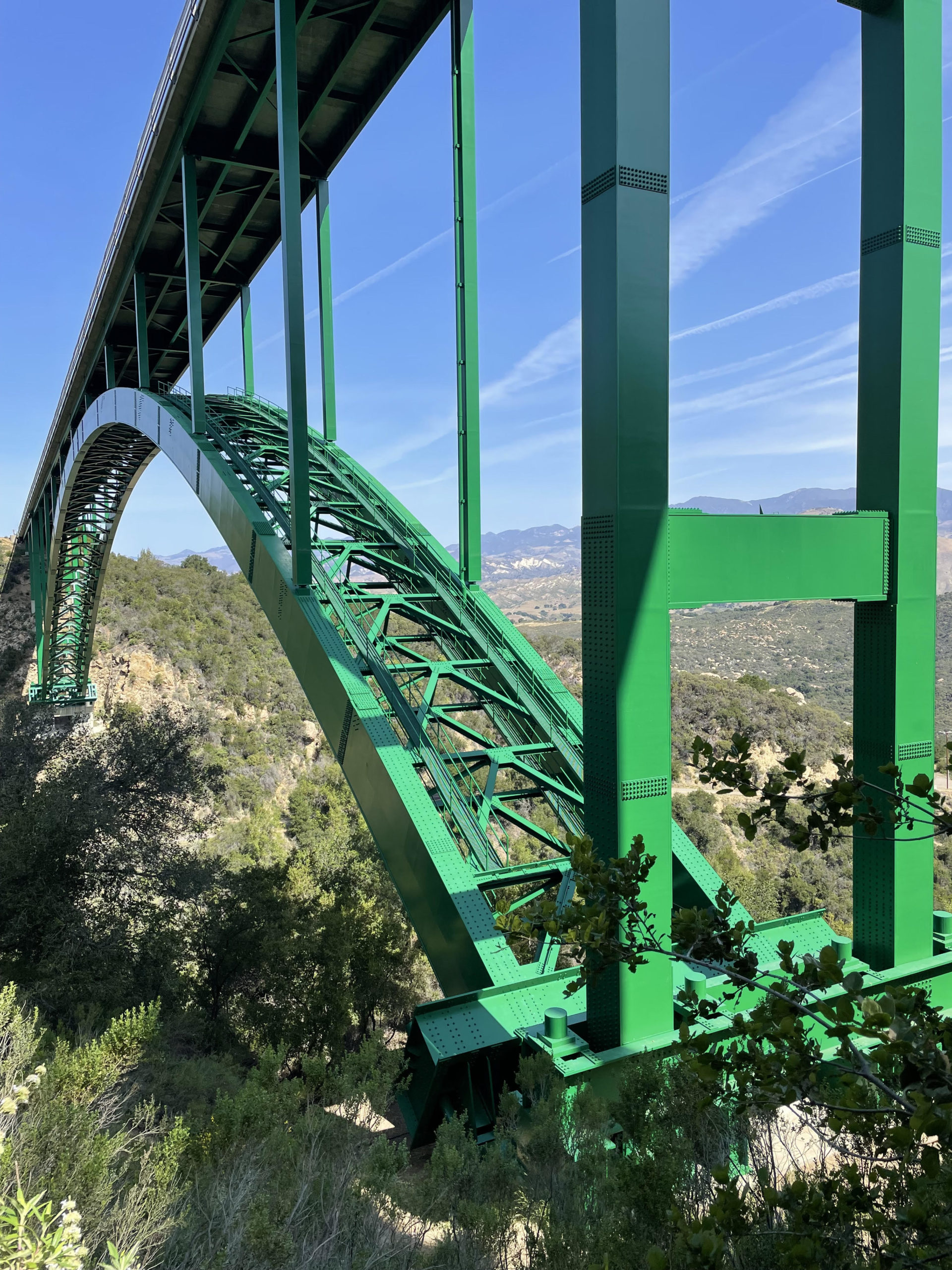 President of Certified Coatings Company, David Brockman, described the work the job entailed. He stated, "All steel elements of this bridge were being coated. The existing bridge has not been coated since its construction in 1864. The original steel consisted of a lead-based primer and two coats of alkyd. The condition of the substrate was overall in good condition, with areas that required abrasive blasting to be typical of Rust Grade B per [Society for Protective Coatings (SSPC)] VIS 1 standard."

Contractors worked on the steel components in three areas: the steel that supported the concrete road deck, the steel that forms the arch, and the columns between the road deck and arch.

The coating system selected for the project utilized Lumiflon FEVE resin. Low-VOC and fortified with anti-corrosive properties, Lumiflon FEVE resin technology ensures the structural integrity of a coating system for decades, reducing life cycle, maintenance, and re-coating costs. FEVE-based fluoropolymers offer a plethora of benefits that other coating systems do not, providing superior weatherability and durability. The color and gloss retention capabilities of Lumiflon FEVE resin technology protect coatings from exposure to UV radiation, moisture, salt and other elemental deterrents that could result in coating failures.

"It's probably the most picturesque bridge we've ever painted," Brockman remarked. "It's just in a beautiful location and a really majestic structure, so that really made it stand out. It was a pleasure every time I had the chance to go down and see what they were doing."

For their brilliant work on the Cold Spring Canyon Arch Bridge, the Certified Coatings Company were awarded first place in the Industrial Steel category and the annual Work It Safe award for CoatingsPro Magazine's 2023 Contractor Awards Program.

Information courtesy of CoatingsPro Magazine