City Centre 1 (CC1) is a large mixed-use project in Surrey, BC. The 183,000 square-foot, 12-story building, was developed by Lark Group and designed by Wensley Architecture. The building sits just across from the Surrey Memorial Hospital and houses 90 medical and technology tenants. Interestingly, the building includes public use space on the ground level featuring retailers, restaurants and a gym.

Joel Smith, Principal Architect at Wensley Architecture explains, "The entire second floor houses the HealthTech Innovation HUB, which is a collaborative space with multiple high-tech tenants that develop technology including apps that serve the medical community." The building accommodates the area's growing fields of technology and medicine, showcasing a commitment to those communities.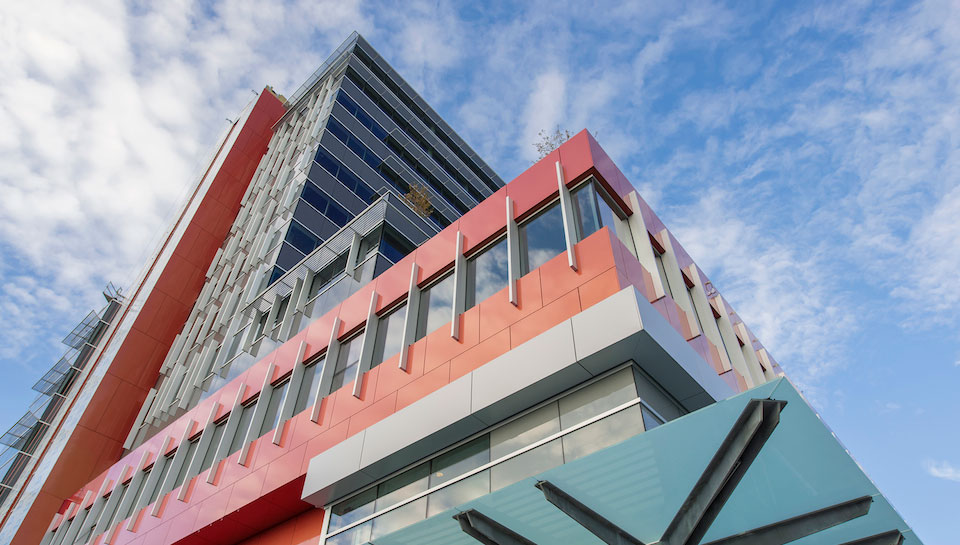 ©Photography Howard Waisman

The building contains a mixture of materials to produce a contemporary feel including aluminum composite panels and glass on the exterior and featuring a series of natural products like porcelain and wood on the interior.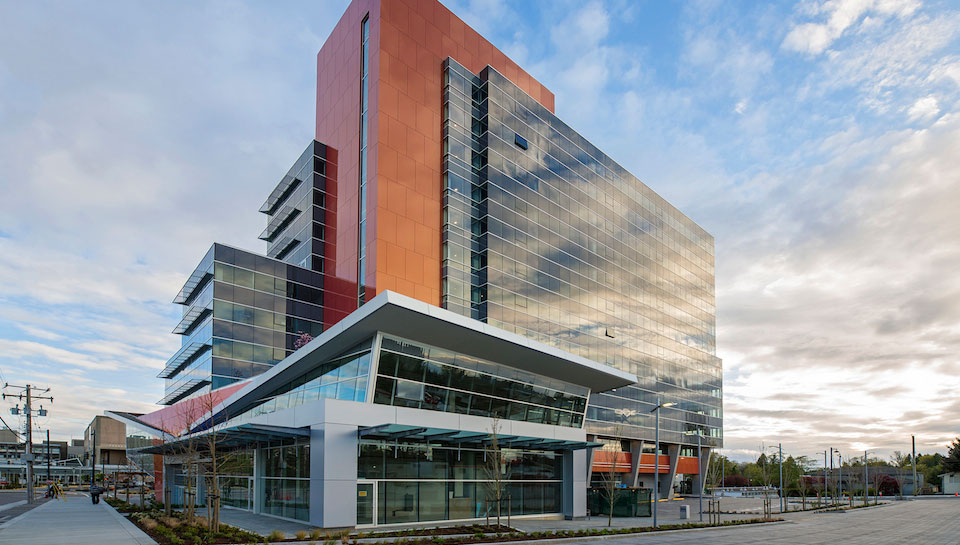 ©Photography Howard Waisman

As a major contrasting element, the building features a stunning orange-hued Alucobond spectra material. Fabricated by Keith Panel Systems, the cladding juxtaposes the other exterior elements. As the representatives at KPS describe, "Integrating alucobond Spectra, the surface offers a dynamic luster that reflects light in a spectrum of colors."

The building achieved it leed status due to the integration of numerous sustainable elements including a green roofing and landscaping system that absorbs storm water and controls run off. An important feature for the building due to its proximity to the Quibble Creek watershed.



©Photography Howard Waisman

Alucobond Spectra panels feature a Lumiflon FEVE fluoropolymer resin topcoat. The topcoat allows for unparalleled gloss and color retention and also prevents against both chalking and fading. The color's brightness can be attributed to the use of Lumiflon FEVE resin. Additionally, the use of a high-performance fluoropolymer topcoat will ensure protection against elemental deterrents that contribute to degradation.

information courtesy of Alucobond USA, Photography courtesy of ©Howard Waisman of Waisman Photography