| | |
| --- | --- |
| Project Name: | Village of Waunakee Elevated Water Tank |
| Project Location: | Waunakee, WI |
| Project Completion: | August 2011 |
| Owner: | Waunakee Utilities Waunakee, WI |
| Engineer: | Strand Associates, Inc. Madison, WI |
| Field Coating Applicator: | Neumann Co. Contractors Merrillan, WI |
The Village of Waunakee, Wisconsin was honored by CNN/Money as one of "America's Best Small Towns." It's decidedly noticeable water tank required an update that reflected the Village's honor.
According to Tnemec coating consultant Cory Erickson, the tank's aluminum exterior finish was nearing the end of its useful life. Additionally, condensation staining and mildew covered the lower portion of the tank.
The Village of Waunakee and the tank owner, Waunakee Utilities, sought an exterior coating that would protect the tank against ultraviolet (UV) light degradation and abrasion while maintaining gloss and color retention. Additionally, the project called for the tank's dated block lettering to be replaced with a modern logo that reflected the region's character. A product that provided an extended maintenance cycle and would ensure logo vibrancy under harsh weather conditions was required.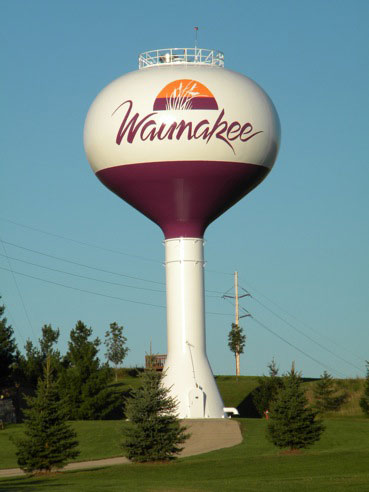 ©tnemec
Tnemec coating consultant Cory Erickson provided the solution; Series 700 hydroflon®, a fluoropolymer topcoat. The tank exterior was prepared in accordance with SSPC-SP6/NACE No. 3 commercial Blast Cleaning, and then coated with a polyamidoamine epoxy. Then, approximately 22 gallons of Series 700 HydroFlon were roller and brush applied to the tank using the Village logo colors.
HydroFlon met every demand laid out for the Village of Waunakee elevated water tank project, and the result was impressive. In fact, Tnemec named the Waunakee water tank as a runner-up in its 2011 "Tank of the Year" competition; a highly sought after award that recognizes the aesthetic, creative and innovative uses of Tnemec coatings on water tanks. Every runner-up in the competition was also coated with a HydroFlon coating system containing LUMIFLON®.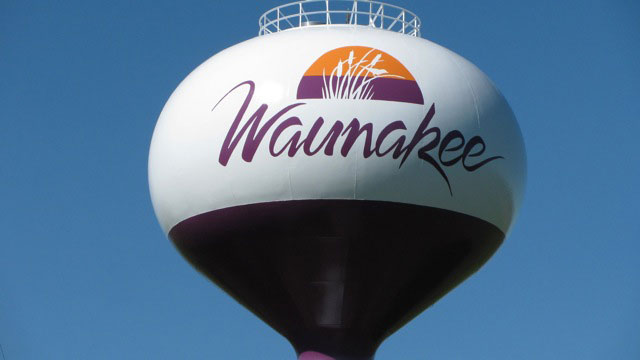 ©Tnemec
Tnemec's HydroFlon is recommended for projects demanding extremely long-term service life. The advanced coating system from Tnemec contains LUMIFLON; a solvent-soluble fluoropolymer whose unique chemical structure guarantee superior durability and extend weatherability. HydroFlon coating systems conform to the American Water Works Association (AWWA) D102 Outside Coating System No. 4 (OCS-4) by exceeding the weathering requirements of American Architectural Manufacturers Association (AAMA) 2604.
LUMIFLON, a product of the Asahi Glass Company, is a solvent-soluble fluoropolymer that offers distinctive advantages to architectural and industrial maintenance markets. LUMIFLON provides architects and engineers with the option of using brighter colors and higher gloss, allowing gloss values as high as 90; offers the flexibility to be heat cured or cured at ambient temperature, giving fabricators a choice between shop application or application in the field; and can be used successfully on a number of substrates, including steel, aluminum, fiberglass, concrete and polycarbonate for 30 years or more without fading.