Every year, Tnemec Company Inc., an industry-leading manufacturer of coatings and linings, holds its Tank of the Year Contest. The competition attracts hundreds of creative water tanks from all over the country. Last year's competition winner was a stunning bird-themed mural from Ann Arbor, Michigan, whose lovely design paired with its brilliant use of color brought it to the winner's circle. This year's winner, a gorgeous elevated tank that perfectly captures the oceanside life of a Florida community, hails from Destin, FL.
Applicator and artist, Eric Henn shared, "The local water company, Destin Water Users, Inc., requested the recoat. They wanted the tank to represent the community, so we came up with the beach design and presented a mock-up to the team." Following a few tweaks, the mural's final design was ready to go.
After the owners consulted with SUEZ Water Advanced Solutions, it was determined that the tank was eligible for an overcoat system. Despite the fact that the already-existing coating system was still intact and in good condition, the owners still wanted something that was aesthetically-pleasing.
After thoroughly preparing the tank's surface, and applying the base coat, SUEZ began the process of adding color. tnemec's Series 700 hydroflon in "Warm Sun" for the bottom half and "Cornflower" for the top half were applied. Completing the tank took Henn two months.
"The tank's proximity to the Gulf presented some problems," he recalled, "I just had to be careful of the moisture levels and work when conditions were most ideal."
The final product of the Destin Tank is a stunning mural, which depicts life at the beach. Two empty beach chairs sit facing the wide expanse of sky and ocean. In the distance, a boat glides smoothly across the blue water.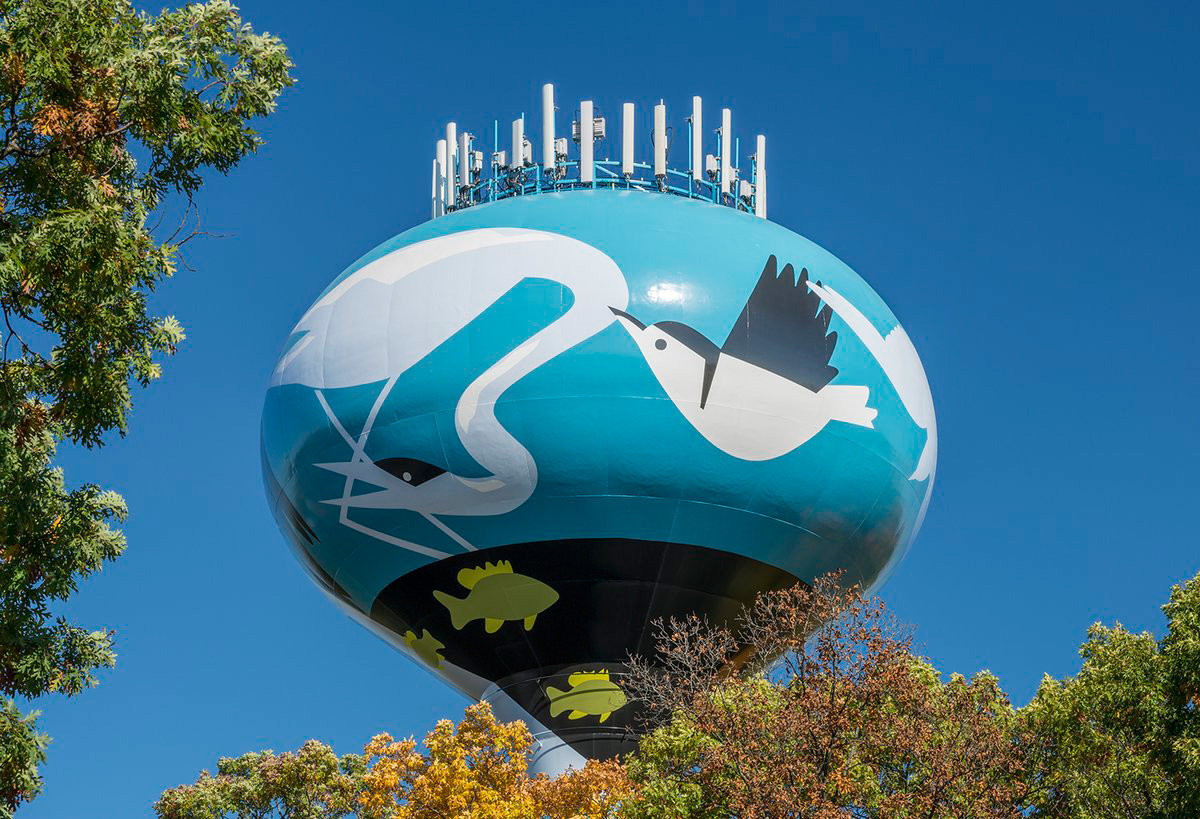 Constant UV radiation, moisture and salt made choosing the best coating system a priority. However, Tnemec's Hydroflon, a Lumiflon-based fluoropolymer, proved itself the most ideal for the tank. Coating systems that utilize Lumiflon FEVE resin technology benefit from superior weatherability, durability, and color and gloss retention, all of which resulted in the 2017 Tank of the Year.
Contest judges were thrilled by the design.
Doug Hansen, Director – Water Tank Market from Tnemec, stated, "The goal of the Tank of the Year contest is to recognize the most impressive projects in the water tank industry. We are obviously impressed with this tank's design and we are proud to have been part of the project."