Winner of the 2010 Water Tank of the Year by Tnemec Company, the Newton water tower features the artwork of a prominent local artist. Depicting one of the "8 Wonders of Kansas art," Newton's Blue Sky Sculpture, both the sculpture and water tank art were designed by Phil Epp. The artist is renowned for his skyscape and landscape artworks.

Epp describes, "A clear, crisp, contemporary depiction of this imagery is my attempt to provoke inspiration and interpretation. The cloud in motion seemed an honest motif for a water tower, declaring its content and justifying its purpose."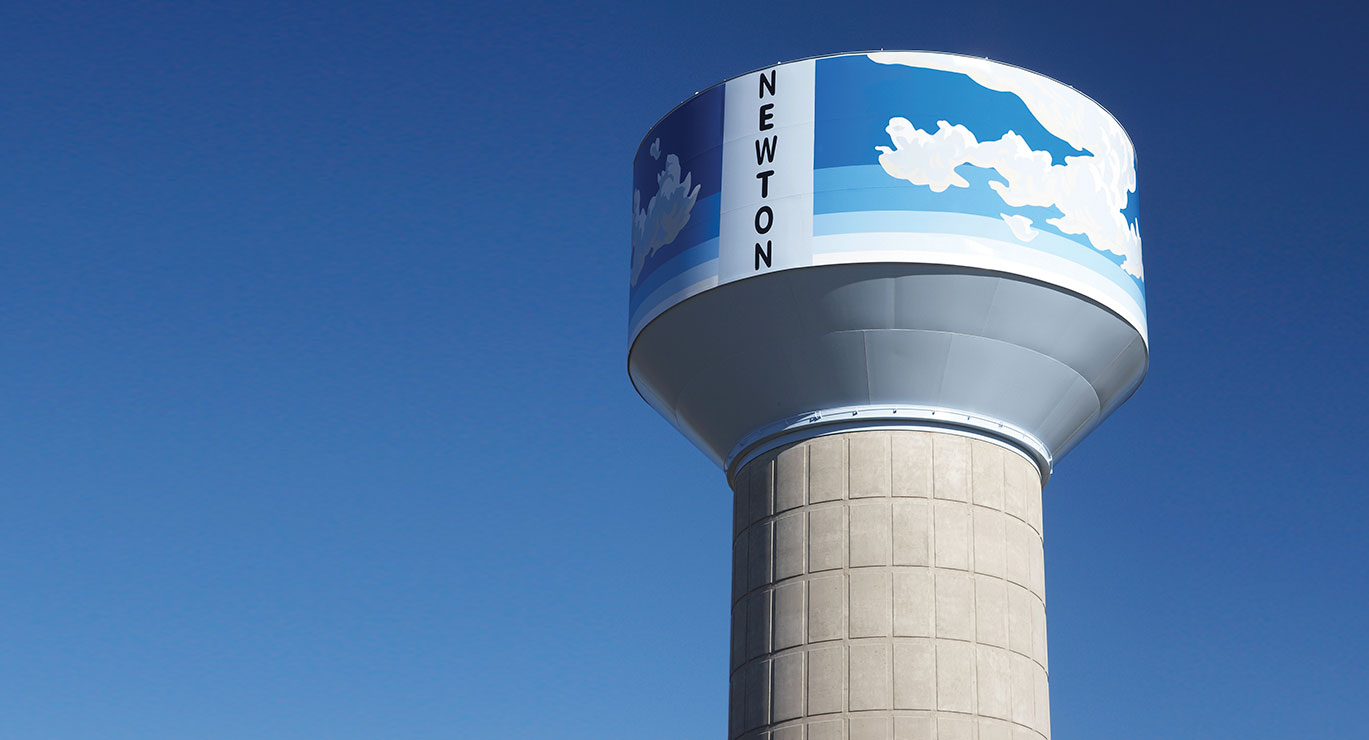 The original standpipe, constructed in the early 1900's, was replaced with the 500,000-gallon pedestal tank. Project engineers specified a high-performance coating system. tnemec coating consultant, Rick Penner, explains, "Working with nationally acclaimed artist Phil Epp, the city negotiated a permanent reproduction of his nearby signature work, Blue Sky Sculpture, for use on the water tank. After an approximate scaled model of the new tank was used to lay out the artwork, Epp and the project engineer matched Tnemec colors to recreate the artist's original desired effect."

Interestingly, the tank was crane lifted onto the pedestal after being assembled and painted on the ground. While on the ground, the tank's exterior steel was coated with a roller-applied intermediate coat of Series 73 Endura-Shield, followed by a finish coat of Series 700 HydroFlon. This advanced fluoropolymer topcoat offers unapparelled gloss and color retention. As Tnemec describes, "hydroflon is also highly resistant to ultraviolent (UV) light degradation, abrasion and chalking."

Penner further describes, "When you have a decorative tank like this, you want it to last as long as possible. The life of the water tank mural will be extended by at least 10 years because it has been coated with HydroFlon."

HydroFlon, the next-generation, high-performance fluoropolymer, contains Lumiflon FEVE technology, which is a main contributor to the coating system's hyper-durability.