While standing seam metal roofs provide longer lasting, more durable solutions than other roofing substrates, their baked on Kynar finishes can fail prematurely. When the roof of this bank in Mathews, Louisiana began showing signs of wear, down to the galvanization, as well as red rust corrosion, it became apparent that a restoration was needed. all-tech coatings was chosen for the job, and they were able to provide a factory-like finish using PPG's coraflon ADS powder coating with Lumiflon FEVE fluoropolymer resin.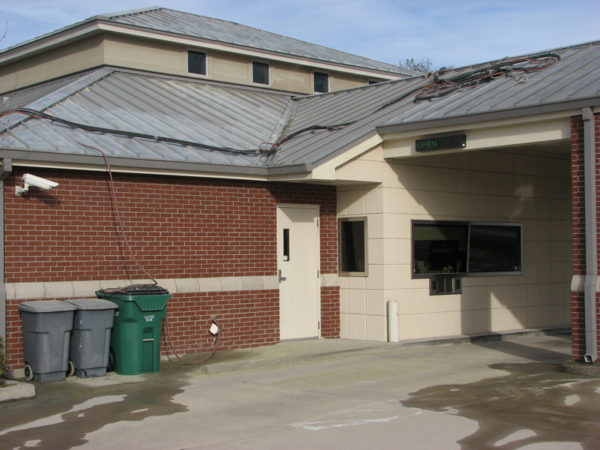 Removal of the original finish on the roof panels was abrasive blast cleaned to SSPC-SP6 standards, followed by pressure washing. Following the cleaning of the roof panels, two layers of an epoxy-based primer were applied at 2.0-2.5 mil dry film thickness (DFT). All-Tech contractors applied a final coat of PPG Coraflon ADS powder coating at 1.5-2.0 mil DFT.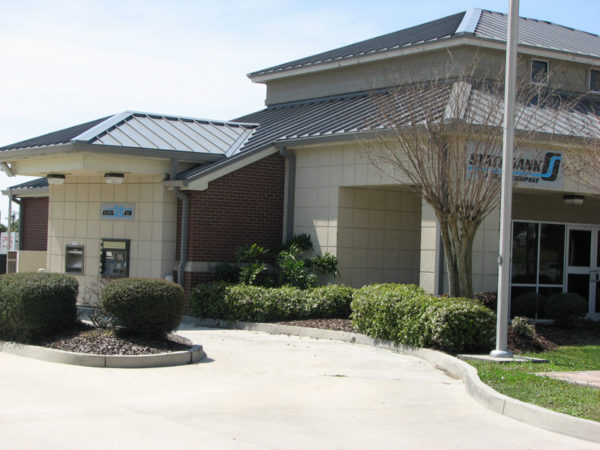 To demonstrate the flexibility of the coating system, the bank was still able to be open during the roof restoration. The team at All-Tech Coatings was able to formulate the Lumiflon-based Coraflon ADS coating for rapid drying times and reduced overspray, reducing the difficulty of the job itself.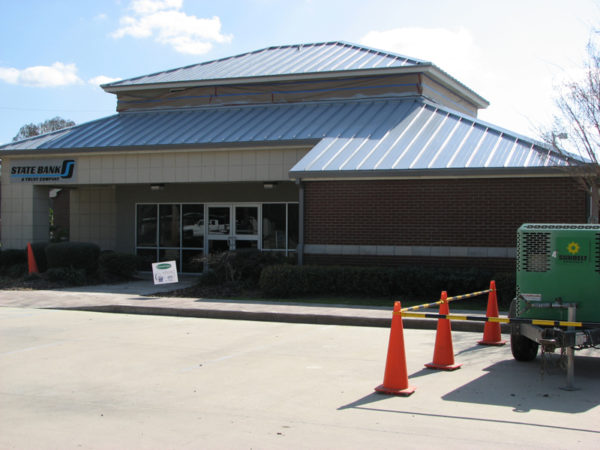 Bob Ruff, sales manager of All-Tech Coatings states, "Many times, building owners request latex coatings, however, they do not offer the same longevity and gloss retention as a fluoropolymer-based coatings. In addition, to show the diversification of the [Coraflon] product, for this job the coating was applied at a cooler surface temperature at an average of 50 degrees Fahrenheit, and we have also been able to apply this coating at surface temperatures exceeding 130 degrees Fahrenheit."
LUMIFLON®, a product of the Asahi Glass Company, is a fluoropolymer resin that offers distinct advantages to the architectural market. LUMIFLON® provides architects with the option of using brighter colors and higher gloss, allowing gloss values as high as 90; offers the flexibility to be heat cured or cured at ambient temperature, giving fabricators a choice between shop application or application in the field; and can be used successfully on a number of materials, including steel, aluminum, fiberglass, concrete and polycarbonate for 30 years without fading.
All-Tech Coatings is a division at all-tech decorating Company; Romeoville, IL, which specializes in the application of high performance coatings on metal substrates, and mostly architectural standing seam metal roofing and curtain wall systems that have a baked on fluoropolymer finish.
PPG Industries; Pittsburgh, PA, is a leading coatings and specialty products and services company, serving customers in construction, consumer products, industrial and transportation markets and aftermarkets. PPG has manufacturing facilities and equity affiliates in more than 60 countries around the globe.
Images and information courtesy of © All-Tech Coatings.