Architectural teams Zeidler Partnership Architects and Snøhetta designed the Ryerson University Student Learning Centre in Toronto. The award-winning design features a large glass exterior façade with an underbelly of blue aluminum composite panels.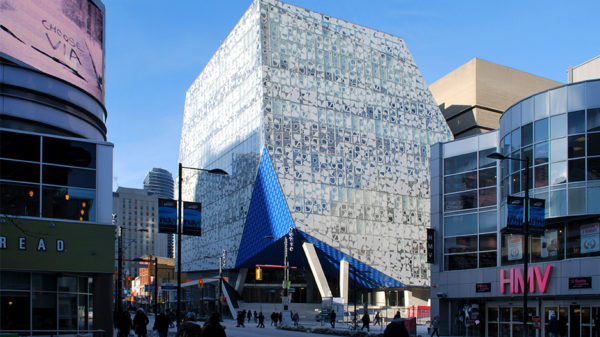 The eight-story building features "…an elevated plaza, a bridge to the existing library, and a range of academic, study, and collaborative spaces," according to the architects. The flexible work environment uses large open spaces to encourage collaboration and creativity amongst students. The LEED Silver building has several sustainable attributes that contributed to its certification including a green roofing system. The building's glass façade allows natural light to penetrate the interior, creating a bright workspace for students and staff.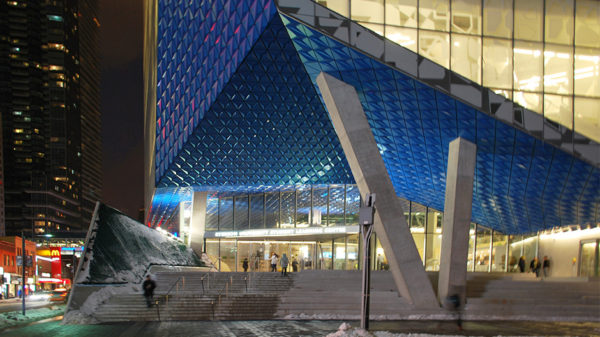 A striking component of the 155,463 square-foot building is the aluminum composite portion of the exterior design. The ALPOLIC®/fr Prismatic panels used on the underside create a stunning and "gem-like appearance," explains ALPOLIC. The University uses a Lumiflon FEVE resin-based Valflon coating in Custom ALPOLIC SEP Prismatic Blue supplied by Valspar®.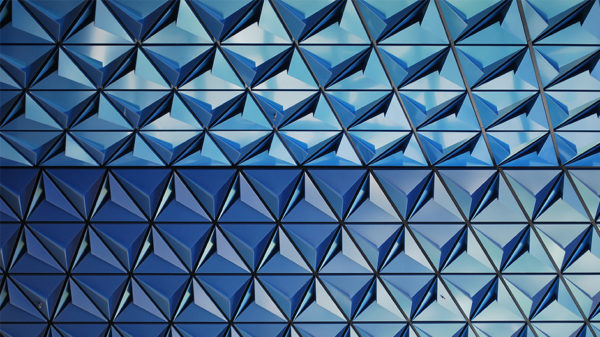 According to ALPOLIC, "…the key to achieving the vibrancy, gloss and durability of the finish was the use of Lumiflon FEVE fluoropolymer resin and Valflon FEVE coatings, supplied to us exclusively by Valspar." They further describe their Prismatic series as, "combining fluoropolymer paint technology with specialized pigments to create unique colors and effects. The resulting finishes stand out beautifully, bringing 3-dimensional depth to your 2-dimensional surface."
With a higher gloss range, finishes with Lumiflon FEVE resin technology produce brighter color palettes and are less likely to degrade from UV radiation and harsh climatic conditions. Although other coatings with PVDF resins are also durable, Lumiflon resins have a much longer life-cycle, which is essential for architectural projects like education where the building is in high-use and recoating would be both expensive and disruptive.
Valspar describes the coatings as being "perfect for high-traffic retail, service stations, schools, corporations and fast food operations. The coatings resist weathering, fading and chalking. Valflon also has a terrific resistance to airborne chemicals, acid rain and most cleaning solvents used to vanquish graffiti."
Photography and information courtesy of ALPOLIC and ArchDaily
Valspar® High Performance Architectural Coatings, The Valspar Corporation is one of the largest global coatings manufacturers in the world, providing coatings and coating intermediates to a wide variety of customers. Since 1806, Valspar has been dedicated to bringing customers the latest innovations, the finest quality, and the best customer service in the coatings industry.
ALPOLIC®, Mitsubishi Plastics Composites America, Inc.; Chesapeake, Virginia, one of the world's leading manufacturers of aluminum composite and metal composite materials. The high quality materials are manufactured in Japan, Germany and the United States. The Chesapeake, Virginia facility began production in 1991 and continues to set the North American standard for innovation and quality.