The curtain wall of the Skokie Hospital was in need of repair after 30 plus years of exposure. Unlike the previous aluminum curtain wall restorations that have been featured on Lumiflon USA, the Skokie Hospital featured a porcelain enamel curtain wall; which is a difficult surface to re-spray. Rather than performing a costly replacement of the entire system, All-Tech Coatings was able to restore the curtain wall using PPG's coraflon ADS coating with Lumiflon FEVE resins.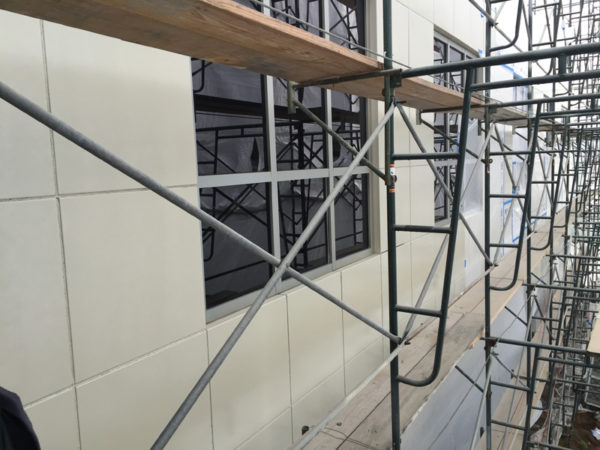 The porcelain enamel surfaces were wet sandblasted in order to remove the previous coating. Some areas were also bondo-filled and hand sanded as needed. All-Tech contractors then applied an epoxy primer at 2.0 mils dry film thickness (DFT). The final coat was completed using ppg's Coraflon ADS coating, at 1.5-2.0 mil DFT. In addition, All-Tech was able to color match the beige color of the previous coating. Along with the porcelain enamel, the hospital's vertical columns and windows used the same epoxy primer and Coraflon ADS coating in a silver metallic finish.
Considering the sensitive nature of hospitals and their stringent air quality, All-Tech contractors created a full-containment system using a series of scaffolds and plastic sheeting. In addition, they implemented negative air machines to ensure that there would be no outside air infiltration to the aged building.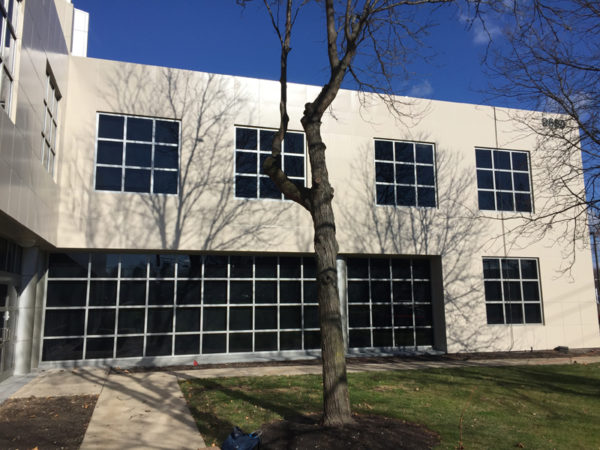 Bob Ruff, sales manager of the specialty division of all-tech coatings, praises and recommends Lumiflon-based Coraflon ADS Coatings not only for their ease of application, but also for their ability to achieve factory-like coatings, as well as their color and metallic matching capabilities. He states, "Despite the challenges of re-coating a porcenalized enamel curtain wall, we developed a specification for Coraflon ADS coatings with Lumiflon. The Coraflon [coating] sticks to the surface very well."
LUMIFLON®, a product of the Asahi Glass Company, is a solvent-soluble fluoropolymer that offers distinct advantages to the architectural market. LUMIFLON® provides architects with the option of using brighter colors and higher gloss, allowing gloss values as high as 90; offers the flexibility to be heat cured or cured at ambient temperature, giving fabricators a choice between shop application or application in the field; and can be used successfully on a number of materials, including steel, aluminum, fiberglass, concrete and polycarbonate for 30 years without fading.
All-Tech Coatings is a division at All-Tech Decorating Company; Romeoville, IL, which specializes in the application of high performance coatings on metal substrates, and mostly architectural standing seam metal roofing and curtain wall systems that have a baked on fluoropolymer finish.
PPG Industries; Pittsburgh, PA, is a leading coatings and specialty products and services company, serving customers in construction, consumer products, industrial and transportation markets and aftermarkets. PPG has manufacturing facilities and equity affiliates in more than 60 countries around the globe.
Images and information courtesy of © All-Tech Coatings.