In 2011, the Federal Highway Administration (FHWA) tested eight one-coat systems, as well as one two-coat and one three-coat systems. They were tested on steel panels that were blast cleaned to Scientific Society for Protective Coatings Surface Preparation 10 standard, and coatings were applied using airless spray.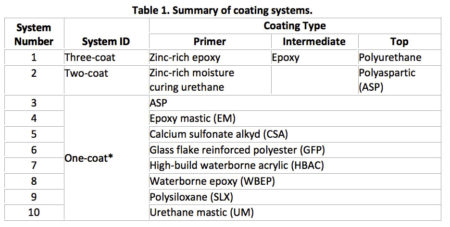 Accelerated laboratory testing (ALT) and outdoor exposure was conducted in Sea Isle, New Jersey for marine exposure, and the Turner-Fairbank Highway Research Center in Mclean, Virginia. The tests measured gloss, pencil scratch hardness, pull-off adhesion, the number of coating defects and rust creepage.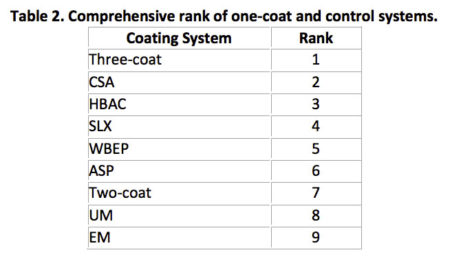 Some of the one-coat systems were satisfactory, yet none performed as well as the three-coat system. The three-coat control retained all of the different variables being measured much better than the other systems. The two-coat system experienced significant gloss reduction and rust creepage.
The Benefits of Fluoropolymer in a Three-Coat System
The Japanese Road Association (JRA) has conducted research using three-coat systems with polyurethane and fluoropolymer resin. It was concluded that fluoropolymer retained superior weatherability, corrosion resistance and adhesive strength. A four-year test also showed significant chalking of the polyurethane coating.
The lifespan of a fluoropolymer resin topcoat is 30-60+ years. In that time, a polyurethane topcoat would expect to be repainted 2-3 times.
These advantages of fluoropolymer coatings have made the material a requirement in the topcoats of Japanese bridge construction, in order to reduce maintenance and provide longevity of the structure throughout its lifespan.
Adoption of the JRA's Fluoropolymer Requirement in the United States
Although initial costs of a fluoropolymer topcoat are 5-10% more than polyurethane, a fluoropolymer resin coating system has a longer lifespan with less maintenance. Environmental costs are lower, eliminating CO2 emissions from more frequent bridge topcoats.
As of 2013, one out of nine bridges in the United States were rated as "structurally deficient." America's bridge conditions, as a whole, are regarded as being mediocre. 30% of the existing bridges have already exceeded their 50-year lifespan, which include some of the nation's large-scale bridges that carry a high percentage of the nation's traffic. Intensive investment would be a requirement in order to preserve or replace aging and deficient bridges.
The inclusion of fluoropolymer resin in bridge construction and repair would increase the longevity and protection of those structures, reducing maintenance costs over time. In addition, the rust inhibiting properties of fluoropolymer topcoats would greatly improve the performance of the many coastal bridges on both sides of the country.
Additional Sources:
Federal Highway Administration: Performance Evaluation of One-Coat Systems on New Steel Bridges by Paul Virmani
2013 Report Card for America's Infrastructure