Lumiflon's fluoroethylene vinyl ether (FEVE) resins can be formulated into a variety of extremely durable coatings systems. They are primarily used in high performance architectural and industrial protective coatings through solids, solutions, emulsions and dispersions. These resins can also be formulated in low-VOC or zero-VOC coatings for environmentally friendly construction.
FEVE resins are nearly transparent to ultraviolet rays, which cause degradation in many organic coatings. The ability to withstand destructive UV radiation allows architectural details with high shine and bright colors to retain those properties. In addition they provide longer protection of basecoats that are susceptible to UV degradation, corrosion and water intrusion.
The long life cycle of FEVE based resins minimizes the need for recoating, which can translate into long-term savings. For architectural restoration, FEVE resins are an attractive option for their field applicability and ambient curing temperatures. Lumiflon FEVE resins are present in many industrial maintenance projects, such as bridges, water towers, concrete and metal structures.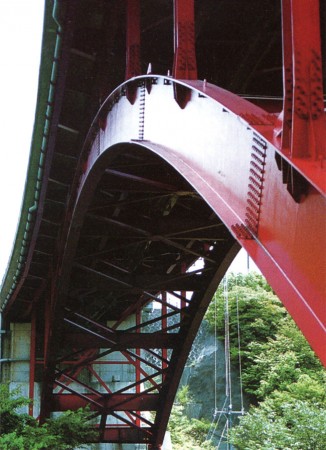 FEVE resins have been formulated in white coatings that have been tested by the Cool Roofs Rating Council (CRRC) lab for Solar Reflectance Index (SRI). At SRI's exceeding 100, FEVE based coatings qualify as cool roof coatings. Combined with the durability and weatherability characteristics of FEVE resins, a superior cool roof coating is achieved. Buildings with cool roofs designated by the CRRC are also eligible for LEED credits. 
Lumiflon FEVE resins protect floors and walls from not only UV lights, but also various chemical and common household offenders.
A water-based FEVE coating was tested against sulfuric acid, hydrochloric acid, sodium hydroxide and several household items such as; motor oil, red wine, mustard, crayons and coffee. The coating passed every stain test, as seen below.
The versatility of Lumiflon FEVE resins allow for multiple types of applications, as they are supplied in powder, water and solvent forms. When coatings are formulated with FEVE resins, they improve weatherability, UV resistance, corrosion and water intrusion. They are included in several architectural specifications, including AAMA-2605. FEVE resins have a multitude of construction and maintenance uses, from new construction to restoration, as well as interior applications where high chemical, UV resistance and cleanability are required.
images © wikimedia commons and Asahi Glass Co.