Factory applied coatings on metal roofs tend to degrade much sooner than the anticipated building's lifespan. Since factory finishes are baked on, the only viable method of roof restoration is field application. Deteriorated roof coatings must be stripped, cleaned and sprayed on site; a job for which dedicated contractors are required. The inclusion of Lumiflon FEVE resins in coatings, such as PPG's Coraflon ADS (air-dry system), help provide a coating with low-maintenance properties.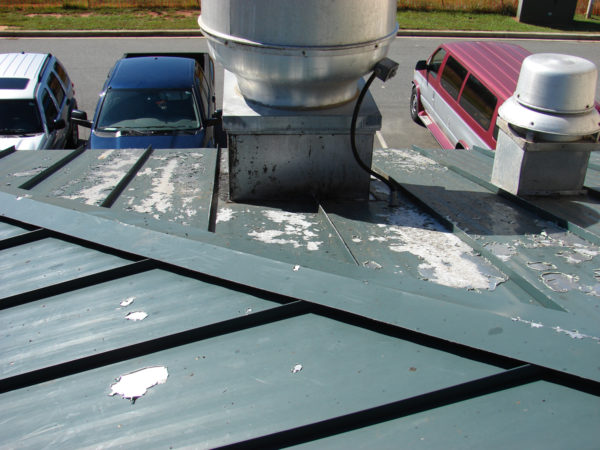 The Village Harbor Office in Lake Wylie, South Carolina was in dire need of a roof restoration. The factory finish on the roof's metal panels was peeling and began to corrode. All-Tech Decorating Company (ATD) was chosen by the Village Harbor Association to find a long-lasting resolution.
After removing the existing finish, All-Tech contractors prepped the surface of the roof with PPG's epoxy primer, which provides excellent adhesion and corrosion resistance for metal surfaces. The epoxy primer was applied at an average 4.0-5.0 mils dft (dry film thickness). Then, 1.8 mils dft of PPG Coraflon ADS fluoropolymer containing LUMIFLON (FEVE) resin technology was applied. Tie-off positions were designed for safe application of the project.
The Wolfe Residence in Crested Butte, Colorado was also in need of serious restoration. Its metal roof had been subjected to excessive snow and ice, which accelerated the deterioration of the factory-applied finish.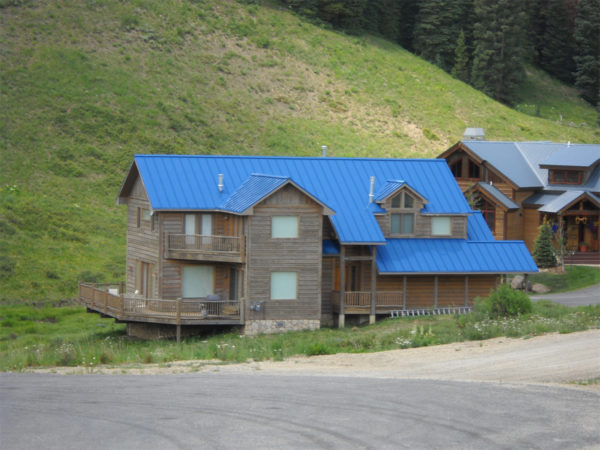 Surface preparation, priming and application of the Coraflon ADS fluoropolymer coating for the Wolfe Residence was the same as the Village Harbor Office in South Carolina. Both coatings were easily air-dried and have greatly enhanced the aesthetics of each building's roof.
The Coeur d'Alene Resort was another ATD roof restoration project, in Coeur d'Alene, Idaho. The 25-year-old aluminum standing seam roof panels were dull, and the resort owner requested a coating that would equal the original. While 20-stories in the air, field applicators were able to monitor overspray and ambient conditions to ensure 100% satisfaction of the coating's long-term durability expectations.
Bob Ruff, sales manager of the specialty division of All-Tech has counted on LUMIFLON for nearly 20 years, and in the last 12 years alone, All-Tech, PPG, and LUMIFLON have successfully recoated millions of square feet of roofs and metal facades.
Ruff adds,
"The color and gloss capabilities of Lumiflon's topcoat system exceed all other coatings we've used. The primer packages from PPG are acutely refined for specifically answering the needs of architectural metal buildings with long-term warranties and weathering characteristics, which can match the factory baked-on counterparts. Moreover, the fluoropolymer coating system eliminates the need for a clear coat, which saves product and labor costs."
Lumiflon FEVE Resins were developed in 1982 as the first solvent-soluble fluoropolymers in the world. These fluoropolymer resins can be solid, solvent grade, water based and powder coats; low/zero VOC and HAPS-free coatings are possible. They have provided coatings with unparalleled gloss and color retention, as well as chemical and weather resistance to various substrates in different environments. In addition, Lumiflon-based coatings have lasted over 30 years without fading. This translates into a lower life-cycle cost for maintenance of the building.
Information and images courtesy of (C) All-Tech Decorating Company