In Sydney, Australia, the lobby of the HSBC Centre is the main attraction, intriguing passersby with its stunning design. Fjmt (Francis-Jones Morehen Thorp) studio, in collaboration with the geometric specialists at AR-MA, designed the entry way as a fluid piece that gracefully takes visitors from the outside in.

As the representatives at Alucobond USA describe, "Its fluidity was purposeful, wanting to blur the lines between where the street ends and the lobby begins." The design, serpentine in both texture and movement, is composed of Alucobond PLUS naturAL Brushed composite material (ACM). The material was cut into the geometric shapes that allow the reflection and refraction of light to further manipulate its composition.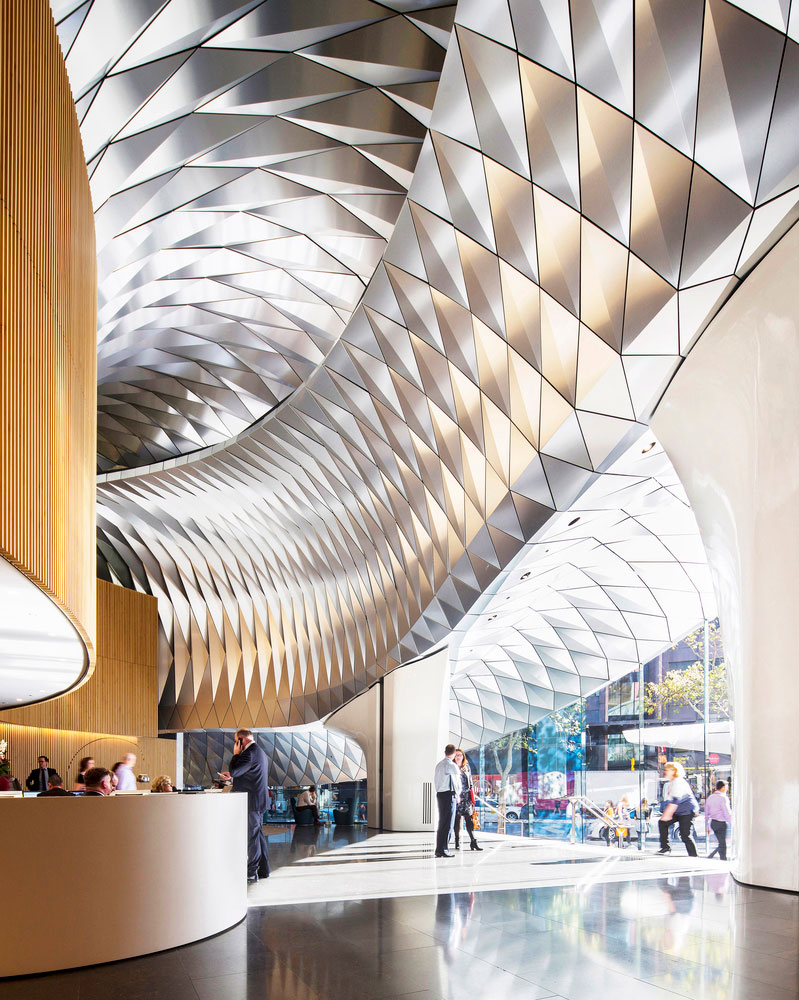 ©Brett Boardman

The architects explain, "We selected Alucobond PLUS Brushed Aluminum, a rigid, yet flexible façade material for the diamond shaped panels, each unique in their form, for its reflective characteristics which respond to site conditions and complements the design concept of shadow and light."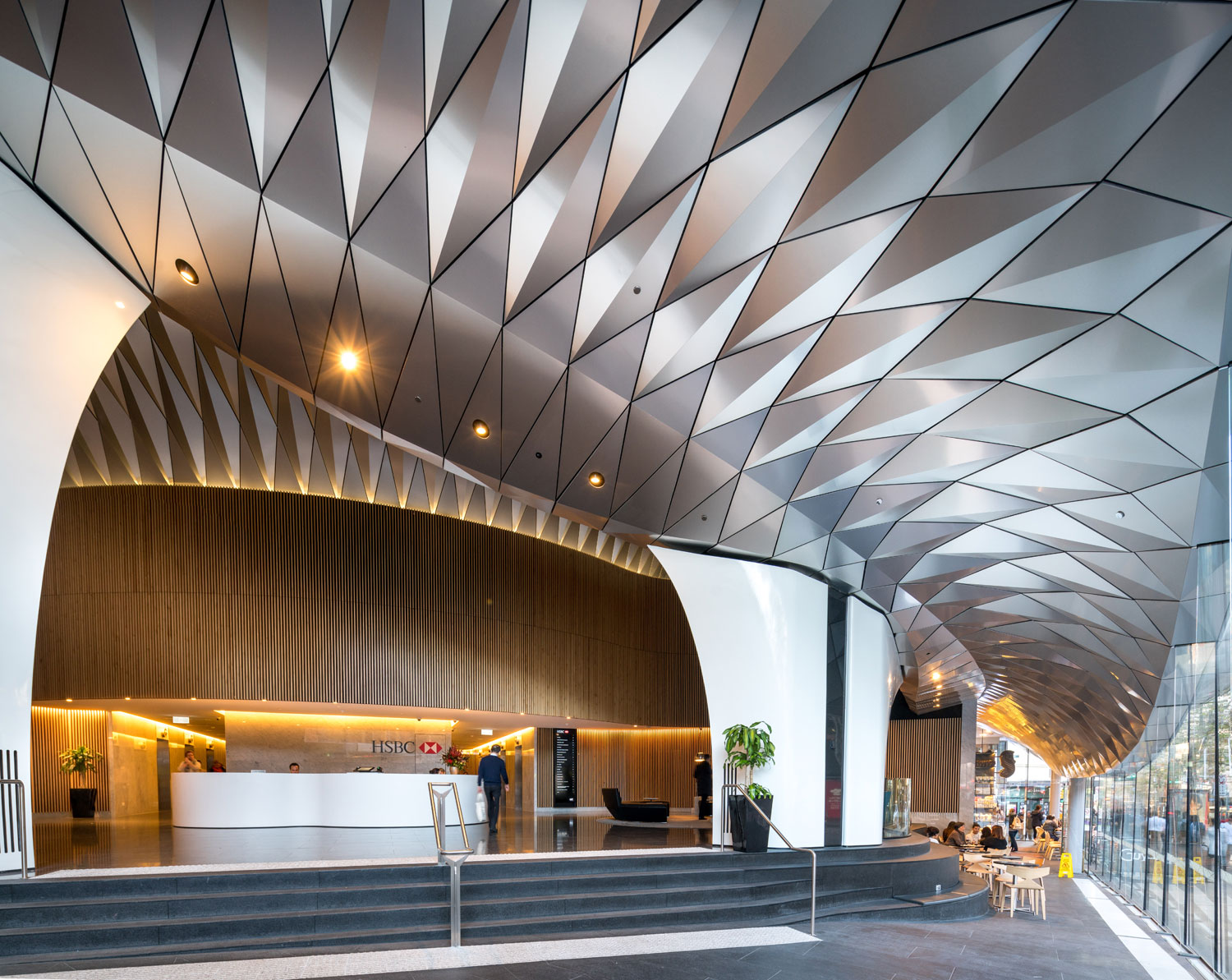 ©Mike Chorley

As with most organic architecture, the project invokes elements of designs that naturally occur in nature like the underbelly of a snake or the folds in a diamond. In addition to the widely geometric design on the interior, the architects further used natural building elements like wood screening to accent the reflective metal.

"The project, both viewed from the exterior through the interior, is a contemporary form that takes full advantage of natural light and space. Its voluptuous awning is meant to entice the area's inhabitants and offers another example of the critical importance initiative design has on our lives," Alucobond USA representatives further explain.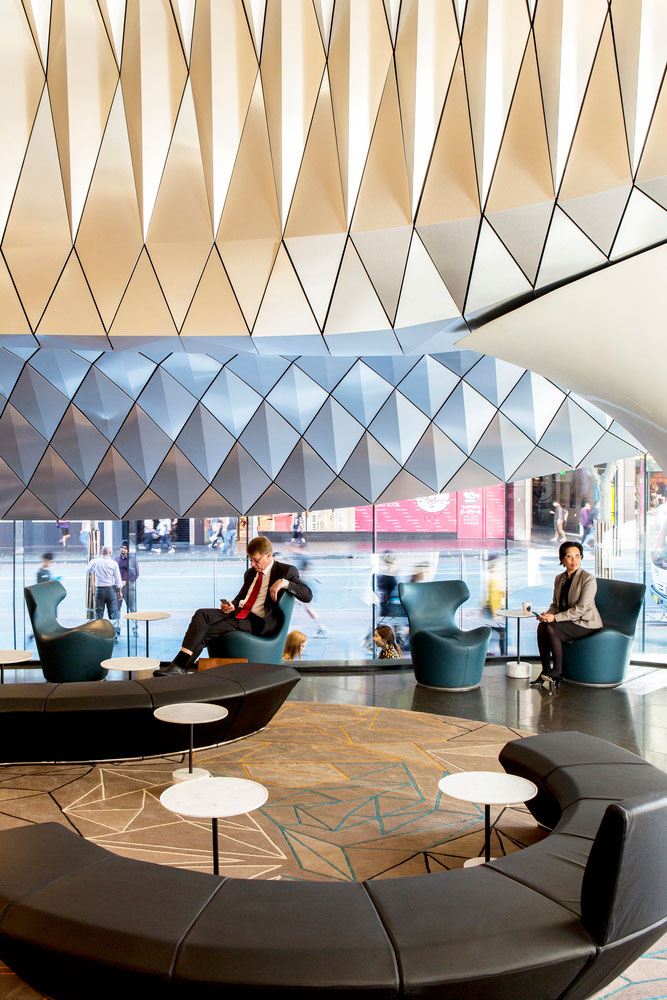 ©Brett Boardman

The Alucobond PLUS Brushed Aluminum panels are enriched in Lumiflon FEVE resin technology which accounts for their unparalleled luster. The fluoropolymer topcoat allows for unparalleled gloss and color retention and also prevents against both chalking and fading. Additionally, the use of a high-performance fluoropolymer topcoat will ensure protection against elemental deterrents that contribute to degradation.

photography ©Mike Chorley Photography and Brett Boardman (see below image)
information courtesy of Alucobond USA