| | |
| --- | --- |
| Project Name: | Hollywood, FL Water Tank |
| Project Location: | Hollywood, FL |
| Project Completion: | May 2011 |
| Owner: | City of Hollywood, FL |
| General Contractor: | Utility Service Co., Inc. Perry, GA |
| Engineer: | Team Consultants, Mulberry, Florida |
| Field Coating Applicator: | Utility Service Co., Inc. Perry, GA |
Hollywood, Florida's one million-gallon torospherical-bottom water tank has towered over Interstate 95 for nearly five decades.
Constructed in 1955, the ten legged tank has endured a challenging coastal environment consisting of elevated temperatures, ultraviolet (UV) light intensity, and unwavering humidity. The trio of harsh conditions caused delamination of the clear coat finish in areas, and necessitated frequent maintenance.
In 2011, a plan was launched to resurface the tank and transform it into a colorful sea-life mural honoring the region's significant sea turtle population. City of Hollywood planners were challenged to find a coating system that eliminated the need for a clear coat finish, offered long-term color vibrancy, abrasion resistance, and an extended maintenance cycle.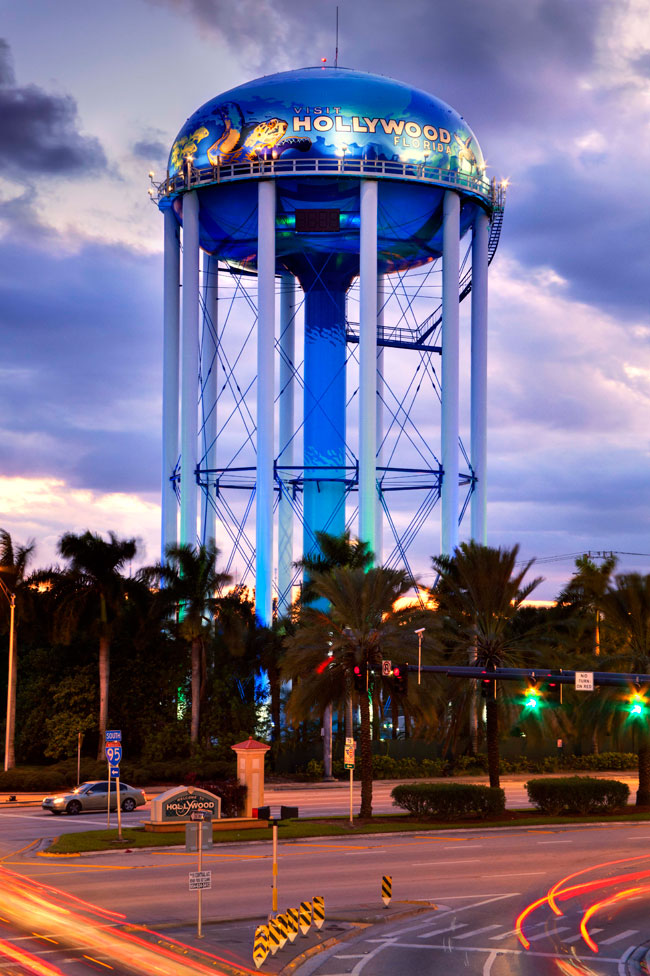 Tnemec, a Kansas City, Missouri based tank coating supplier offered a solution- Series 700 hydroflon®. HydroFlon is an exterior finish coat especially recommended for water tanks in coastal environments and for other exposed steel structures that demand extremely long-term service life. The advanced coating system from tnemec contains LUMIFLON®; a solvent-soluble fluoropolymer with a unique chemical structure that ensures superior durability and extended weatherability.
Doug Hansen, Director of Tnemec's Water Tank Market explained that the fluoropolymer coating system containing LUMIFLON was selected due to its "outstanding resistance to UV light degradation and unprecedented long-term gloss and color retention." He explained, "The system also extends the maintenance cycle well beyond the service life offered by traditional coatings, while enhancing the imaginative designs and color schemes." Hansen recognizes yet another benefit of HydroFlon containing LUMIFLON. "The fluoropolymer coating system eliminates the need for a clear coat, which saves product and labor costs."
The tank's exterior was prepared in accordance with SSPC-SP7/NACE Standard No. 4 Brush Brush-Off Blast Cleaning; primed with a coat of Series 135 Chembuild®, a modified polyamine epoxy for marginally prepared steel; coated with Series 1075 Endura-Shield® II, an aliphatic acrylic polyurethane that is highly resistant to abrasion and wet conditions and finished with Series 700 HydroFlon containing LUMIFLON.
Hollywood's water tank boasts 19 vibrant colors ranging from brown to a myriad of blues and seafoam greens. Jim Kelly of Industrial commercial Signs assisted Utility Service Co. by painting the mural and lettering. Circumference lighting was added to illuminate the colorful sea turtle scene at night.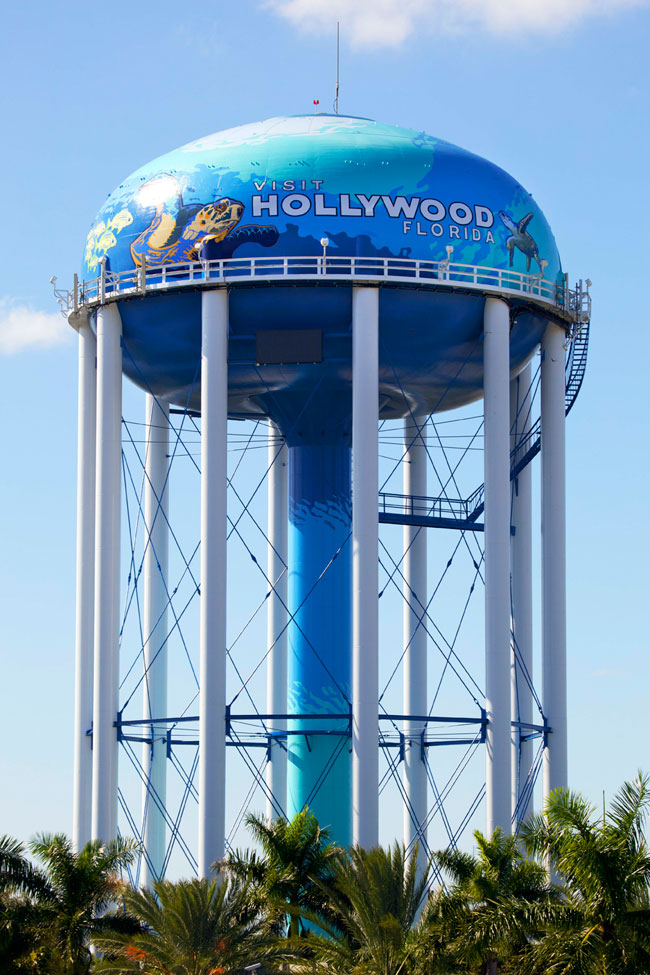 All parties involved in the Hollywood tank project were thrilled with the results. Tnemec offered further accolades by naming Hollywood's water tank its 2011's "Tank of the Year;"a highly sought after award that recognizes the aesthetic, creative and innovative uses of Tnemec coatings on water tanks. Every runner-up in the competition was also coated with a HydroFlon coating system containing LUMIFLON.
LUMIFLON, a product of the Asahi Glass Company, is a solvent-soluble fluoropolymer that offers distinctive advantages to architectural and industrial maintenance markets. LUMIFLON: provides architects and engineers with the option of using brighter colors and higher gloss, allowing gloss values as high as 90; offers the flexibility to be heat cured or cured at ambient temperature, giving fabricators a choice between shop application or application in the field; and can be used successfully on a number of substrates, including steel, aluminum, fiberglass, concrete and polycarbonate for 30 years or more without fading.