The big, bold, and extravagant Las Vegas-style gaming experience has made its way to one Midwestern casino. Jumer's Casino & Hotel of Rock Island, Illinois was originally built as a replacement for another casino that had been out of commission since 1992. The establishment is home to a 170,000 square-foot entertainment center and casino, which is equipped with 1,200 games, a VIP lounge, a high limits slot area and large poker room, in addition to a 5-story, 205-room hotel.
True to the Casino's Vegas-style theme, the exterior of the building is an exuberant show of flashing lights and colors that would have no trouble fitting in on the Vegas Strip.
The new facility, which had opened in 2008, was designed by Minneapolis-based KKE Architects, Inc. In order to create the casino's lively, color-changing exterior, 57,083 square-feet of Alucobond Aluminum Composite Material in Spectra Cupral was selected as the cladding that would envelope the structure. Design architect, Guy Davidson of KKE Architects elaborates on the firm's choice of cladding:
"We were blessed with a site boarded on three sides by freeway, with woods and a lake on the fourth side. The complex produces a strong impact from a distance, almost like a billboard. By selecting Alucobond Spectra, we were able to complement our sleek, modern design through a simple bold stroke. The building tends to have two faces – one from a distance and one near – because the Spectra is a color shifting, constantly changing material. Once you arrive at the complex, you're still fascinated by it. With each shift of the sun and clouds, it changes color – from red to orange to almost brown."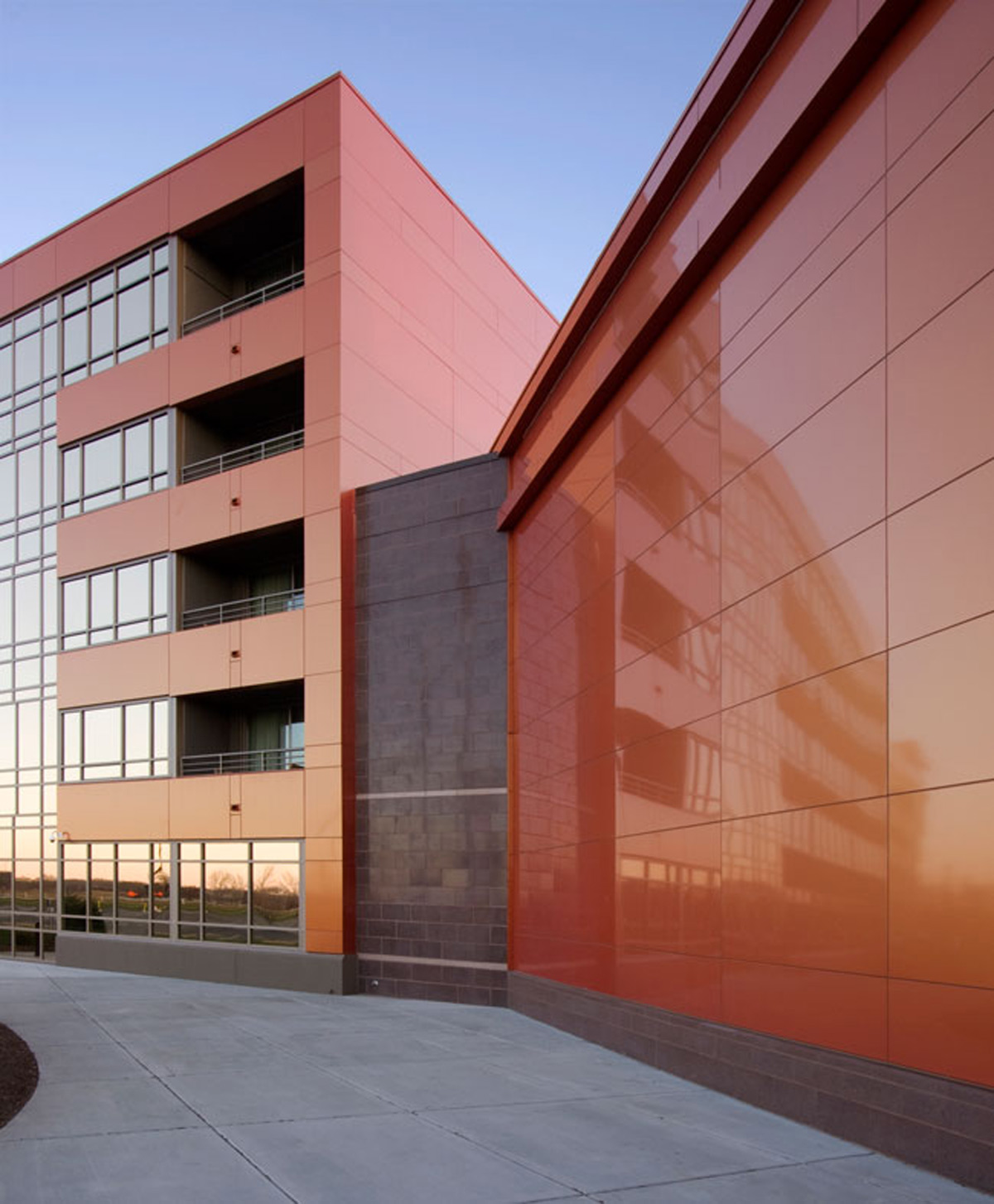 The coatings on Alucobond Spectra panels are designed to be hyper-durable, as the color-changing coating is protected with a Lumiflon FEVE resin topcoat. The high-performance, next-generation fluoropolymer ensures color and gloss retention and has the ability to resist UV radiation and intense weather conditions for extended periods of time. The Lumiflon FEVE resin technology covering the ACM cladding will provide Jumer's Casino & Hotel with a hyper-durable coating system that will leave the casino in pristine condition for years to come.
Photos courtesy of Alucobond