The Harbor Control Tower is a signal tower and water tank on Pearl Harbor on the Hawaiian island of O'ahu. Built in 1925 by the US Navy and Army, the tower served the US military as an observation deck for monitoring and directing naval traffic.

The historic structure remains standing by Pearl Harbor's naval shipyard, more than 70 years after its construction. Through the decades the Harbor Control Tower has seen its fair share of destruction and mayhem, having witnessed the 1941 attack on Pearl Harbor. Although the Harbor Control Tower survived the test of the time, its once vibrant orange and white exterior was no match for the Hawaiian sun, sand, and sea.


The combination of humid climate, high concentration of salt in the air, and intense UV radiation can be detrimental to any subpart coating system. A plan was laid out to restore the tower's original color scheme in which reparations were initiated. Coatings contractor, Abhe & Svoboda, Inc., took up the task of removing any and all hazardous materials from the tower's surface before application began.
"Once we completed sandblasting, we discovered more and more unplanned repairs," Abhe & Svodboda area manager said, "There were holes in the water tank, and the legs needed to be repaired, not to mention rust was encompassing most of the structure."
In order to prevent coating degradation caused by the environment, selecting a high-performance coating system was key. Sherwin-Williams Protective and Marine Coatings was selected.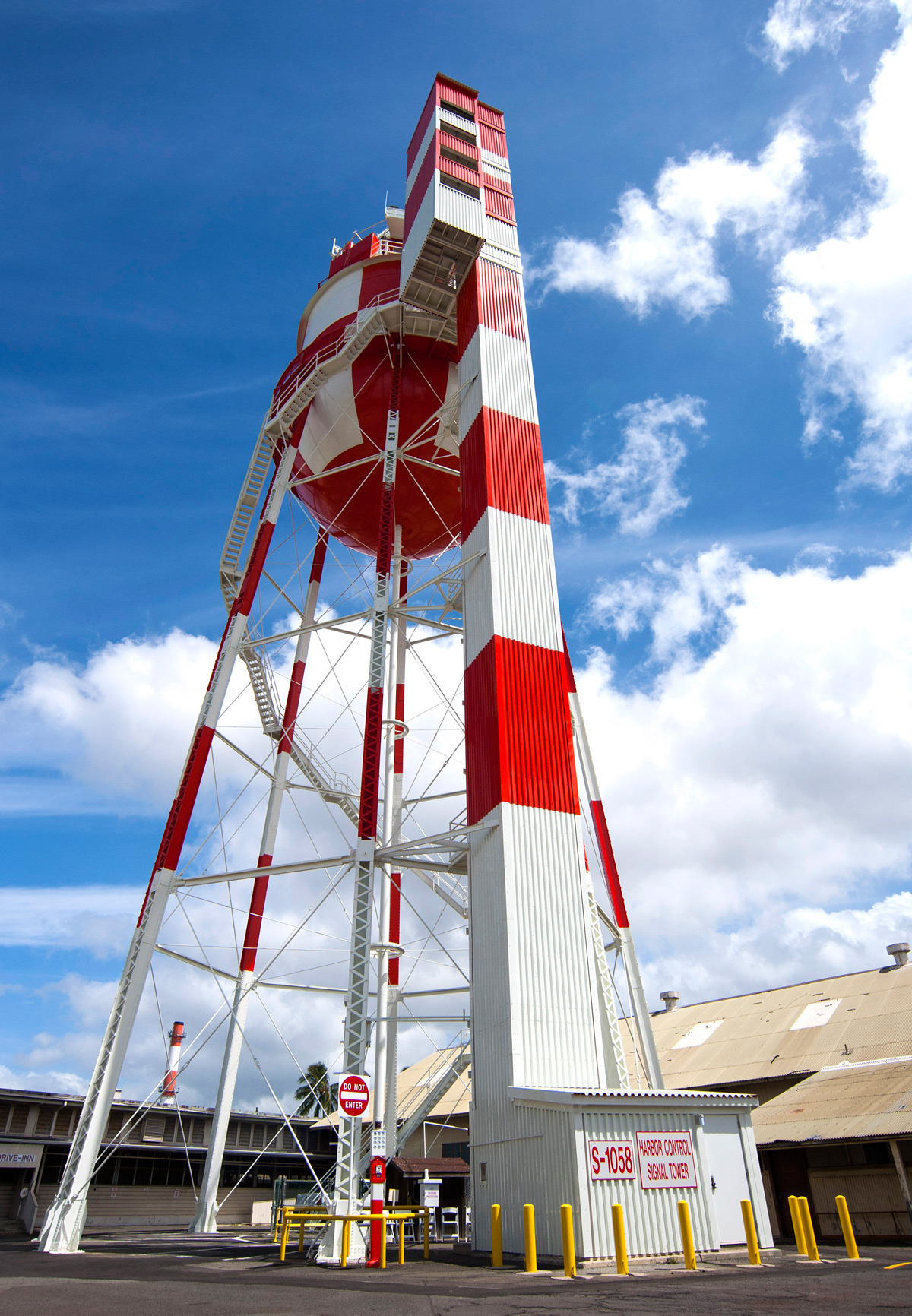 Casey Turville, West Area district sales manager for
Sherwin-Williams
elaborated on the needs of the project stating, "In order to preserve the tower as a historic landmark, and to restore its integrity, the original orange and white checkerboard color scheme needed to be achieved." Turville noted that, "…color and gloss retention were fundamental performance characteristics when choosing the proper coating system."
The most essential product used to complete the restoration was Sherwin-Williams' Fluorokem HS, which was used as the topcoat. The coating utilizes Lumiflon FEVE resin technology that protects the tank's vibrancy. The hyper-durable resin offers outstanding weatherability and exceptional color and gloss retention. Impervious to degradation caused by UV radiation, moisture, and salt, the coatings system used for the Harbor Control Tower will ensure the project's lifespan.
Photos courtesy of
Nagamine Okawa Engineers Inc
.