Skyline Plaza is a shopping center located in Frankfurt, Germany. The site, which covers approximately 409,028 square-feet, is home to a variety of businesses including 170 stores, a wellness center, restaurants, and a catering business. The center's crown jewel sits on top of the complex, where a rooftop garden was opened to the public in 2014.

Designed by ECE Projektmanagement G.m.b.H. and Co. KG and Jourdan and Muller Project Group Architecture and Urban Design, the shopping center is a point of union between Messe, Frankfurt's trade center, Frankfurt's banking district, and the city center. Architects used this design to allow easy access into the shopping center. Additionally, the project serves as a model for sustainable design, having received a golden certificate from the German Sustainable Building Council.

The interior of the site is a reflection of Frankfurt, presented in a series of architectural motifs. According to designers, the concept of Skyline Plaza's interior was inspired by the sights of the city as pedestrians in an urban environment made their way to the park. The final design featured pods that serve as bridges, and projections of the city are displayed throughout the center. The heart of the complex, the food court, takes on the appearance of a park with tree-like sculptures and elevated seating pods that looked like nests.
The exterior of the building is an array of vibrant colors in the midst of the city. In large, bold letters, the name "Skyline Plaza" is arranged across the center of the façade. Multi-colored louvers coated in 59 different Lumiflon shades are wrapped around the building, giving Skyline Plaza its eye-catching exterior.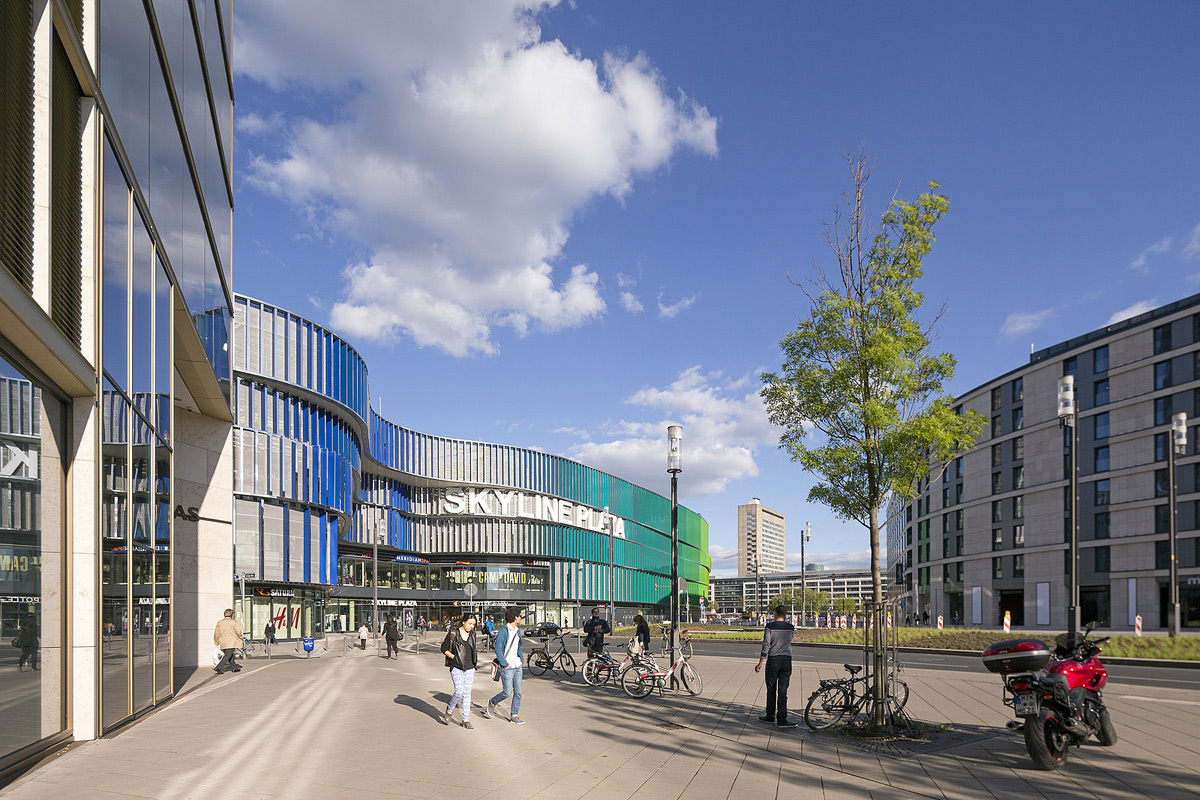 Lumiflon FEVE Resin is a low-VOC fluoropolymer whose formulation gives the coating system excellent weatherability and gloss and color retention capabilities. Lumiflon FEVE Resin was the best option for the Skyline Plaza, as sustainable projects typically contain low-maintenance coatings that will eliminate the need for recoating. The coatings applied to the Skyline Plaza can withstand exposure to UV radiation, salt, and water degradation for an extended period of time.

Photos courtesy of Allianz Real Estate and CA Immo